Whether you're planning a formal dinner party, a leisurely breakfast, a pool party or impromptu backyard lunch, an awesome outdoor area is a must.
The center of any decent outdoor entertainment area is the outdoor kitchen. Creating an entertainment area where the kitchen is at the center was the goal of this research.
My wife loves to cook and entertain. She is very passionate and creative. We found Cooking outdoors is very easy if you have a sink to use. We found positioning the sink outside on your veranda or in the backyard gazebo is extremely handy.
Having the guests wondering in and out of the house to get to the main kitchen was not such a good idea for us. We found this created more unintended messes, that needed to be cleaned up after.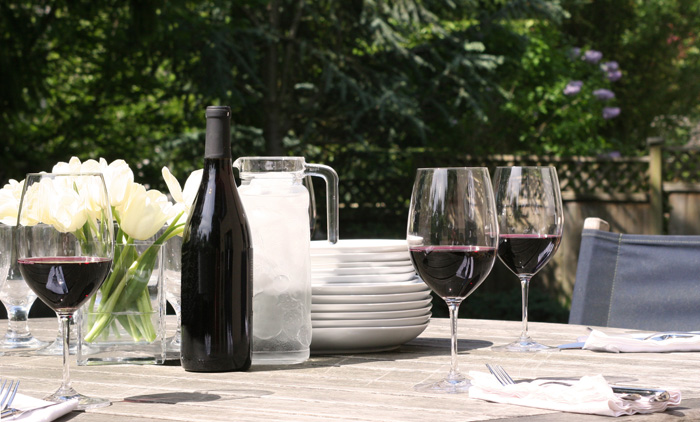 For the times when your entertaining, you may want to spruce your patio or backyard. Here are some of the items we found important to do before an enjoyable backyard soirée.
The 10 Essential Items for Outdoor Entertainment
EDITORS NOTES: The number one item on this list is the outdoor kitchen. For good reason. It's awesome. We will explain all this in much more detail later in the article.
Outdoor Kitchen Sink
Like we mentioned before, cooking and cleaning in an outdoor kitchen is very handy if you have a sink close by.
People love to party, so the best entertainment and fun times usually take place in the backyard. We found it best to keep the guests outside if the party really gets started.
So, it is essential (if not convenience) to do your preparations in your outdoor kitchen area.
RELATED POST: Best Uses for an Outdoor Garden Sink
Outdoor attractive lightning
Any party or dinner with friends usually ends up late into the night. For this reason we mention the lightning. becomes the most essential outdoor dining and entertainment element.
These lightning not only keep your patio or backyard safe while the sunlight is absent but add a unique charm and ambiance to the venue. It will also make you feel warm, cozy and inviting at night.
If you want to add a festive spark to your party, you can use string lights to the umbrella, gazebo or pergola.
These outdoor lighting also helps in highlighting the social/dining areas where your friends and guest are seated.
Path lights and torches is also a great option that helps in illuminating dark corners.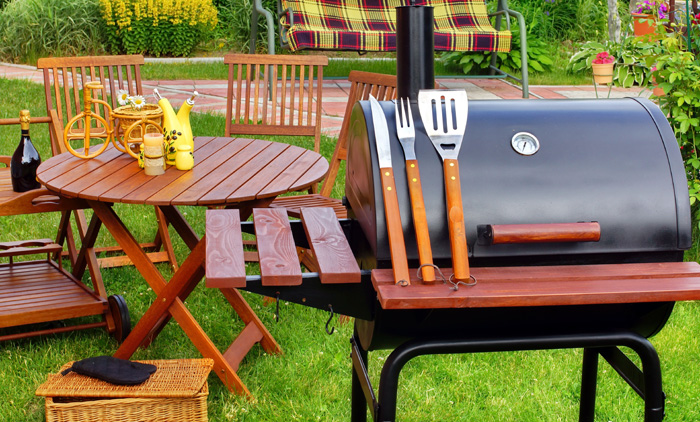 Grill, tools and accessories
A barbecue grill tops the list of backyard party which is available in different sizes.
You can prepare delicious meat on these grills which comes with accessories like side burners, warming plates and rotisseries for a wide variety of cooking methods.
Grill tools are also very important if you have hosted a party for a large group of friends and relatives.
These tools include fork, tongs and spatula which ensure safety while you are preparing the food.
Instant red meat thermometer also constitutes an important grilling tool which ensures that your meat is cooked properly in your outdoor kitchen. More Outdoor Kitchen Accessories.
Music system
If you want to create an environment of fun and excitement in your outdoor party then music system is the right item for setting the tone for the party. It helps in adding acoustics to your party and these music systems include MP3 players, iPods and stereo systems.
Pest control
There may a large number of pest or insets that be disturb you while you are parting at your backyard or pool side. Insects and mosquitoes fly around the food and thus you will need to place citronella candles for repelling the pests so that all your guests can enjoy your party to the fullest.
Water
Water is the most important item that you will need for your outdoor entertainment and thus you need to make sure to store as much water as you can on the party venue so that you will not face any shortage. You can also have small pet water bottles for all your guests.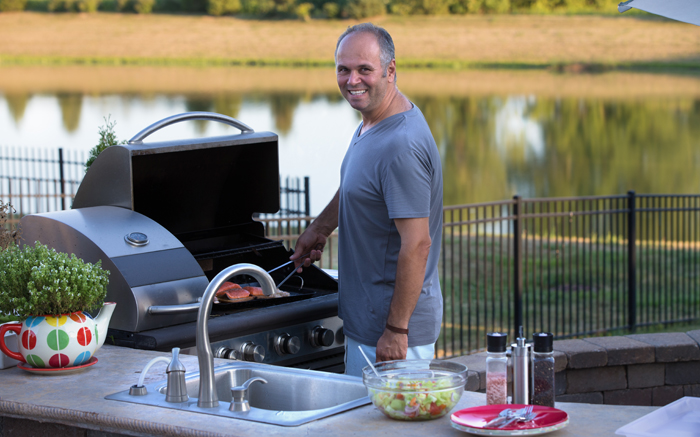 Outdoor seating
You need to provide ample seating to your guests to ensure that they are comfortable. These outdoor seating includes sofas, loungers, chairs and patios. There are many other options like beach chairs, ottomans and folding chairs.
Weather gear
It is an important device that helps you to forecast the weather and helps you to prepare when the weather starts becoming worse. It is also the best way to avoid planning for any outdoor trip when you know the weather beforehand.
Dinnerware
You can always use glassware and dinnerware like acrylic or melamine as it is considered as the best option when your guests are dining outside. These dinnerware's are environmentally friendly, lightweight and durable.
Fire starter
You should always be equipped with waterproof matches and flint stick when you are hosting a party at your backyard or poolside. It helps you to ignite your barbecue grill in your outdoor kitchen so that you can prepare food for your guests.
---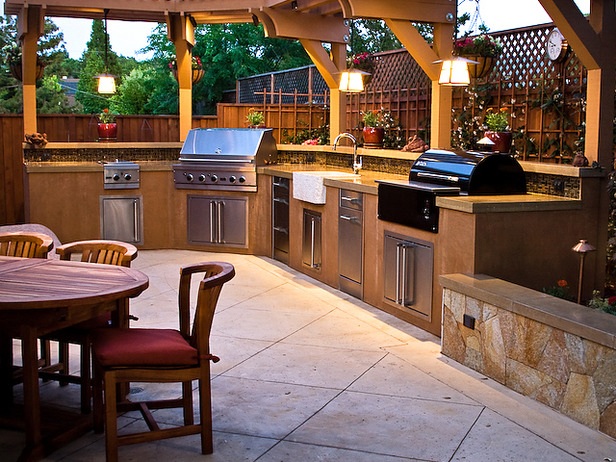 Outdoor Kitchen and Outdoor Entertainment Areas
Around the world, the outdoor sink is a very popular and common part of most homes.
As outdoor living becomes a part of every modern family, the need for an outdoor cooking and cleaning area, means the kitchen sink on the patio is now a requirement.
Most families love to have their little gatherings and create bonding moments together.
Doing this in your home make the moments more enjoyable and memorable.
The need for ease of use, means it's extremely practical to have an outdoor entertainment area, so your family can enjoy the fresh air and sunshine while preparing the food in the backyard.
Outdoor Cooking
Cooking outdoors is very easy if you have a sink to use. People love a little party and these occasional fun time are usually held on their veranda or in the backyard.
For anyone who has held one these special event, it is completely within your rights to have some convenience available while your preparing for your outdoor dining party.
The availability of a sink is also very practical for other uses, such as camping, gardening and other cleaning duties. They do offer a tons of benefits in your homes and garden.
Outdoor Entertainment Advantages
If you are interested of having an outdoor sink station, you must be aware of its advantages so you could readily decide whether to have one.
Going back and forth while preparing for an outdoor gathering is a real hassle. Accidents may likely happen. You don't have to wash dishes inside while your guests are outside waiting for you. You don't have to waste your time preparing your utensils by going in and out of the house. Your guests at the same time can easily wash their hands before and after eating.
Summer will always come whether you like it or not. It is very stressful to clean and cook if it is very hot. Outdoor sinks brings comfortable cooking and cleaning unlike those of small bar sinks, it saves you from the unpleasant hot feeling and helps you achieve that good mood while doing your kitchen chores.
A sink is a very important accessory in an outdoor kitchen. You can enjoy the bonding with the family members by having them help you prepare a hearty meal since it is very comfortable and convenient to do these tasks.
For moms, at times it can be very boring and tiring to do kitchen chores in the kitchen inside the house. Having a new working space will definitely change your mood. You can start making an outdoor kitchen and have a portable outdoor sink because it is an easy to build sink and you would definitely love the result.
An outdoor sink is a specially important fixture to have. There are different shapes, forms and brands that offers quality outside sinks in a very affordable price. Washing cars, washing dishes, washing gardening tools, cooking outdoors, cleaning utensils are just a few that makes your life tedious. Having a sink outside is a big help. Its benefits will surely make your life easier and contented. Start building your own and take advantage the wonderful things these sinks can provide.
---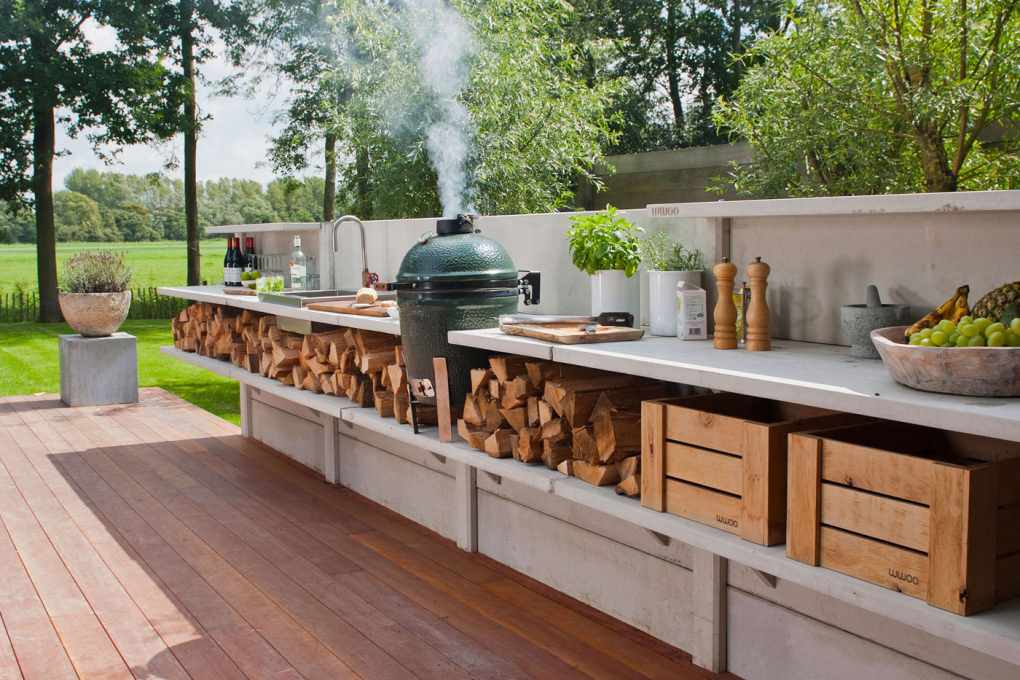 Outdoor Sink: Creating an Awesome Outdoor Kitchen
An outdoor sink can be useful for a number of reasons and can provide a new level of functionality to a Garden.
Many individuals often need a way to clean things in the garden, either if they are cleaning tools or preparing food.
In this case, an outdoor sink can be a perfect addition.
If you wish to build an outdoor kitchen then you will also need to think about the dynamics of an outdoor kitchen sink.
The outdoor kitchen can be great in the summer when the weather is perfect and friends and family can enjoy meals and parties that are based outdoors.
Things to consider when Creating an Outdoor Kitchen:
Build the outdoor kitchen and sink closer to the house as possible
Decide whether to run a hot or cold water from the outdoor sink
Winterize the pipes for the plumbing of the outdoor sink
Add other interesting things nearby the outdoor sink, for example; herb garden
In order to implement an outdoor sink with the kitchen, one will need to build the sink and the kitchen as close to the house as possible.
This will make the plumbing easier, as well as the factor of where to place the waste water.
If the outdoor sink is near the waste water system within the house, then they can both use that effectively.
One can decide whether they want to run hot water, as well as cold water from their outdoor sink. Some individuals will not feel the need to implement hot water and this is fine.
If you do wish to run hot water from the tap, you may need to invest in an outdoor water heater.
It is also important to winterize the pipes that make up the plumbing of the outdoor sink. One technique for getting all water out of the pipes so that they do not freeze is through the use of pressurized air.
If water does freeze within the pipes, it may permanently damage the outdoor sink.
It can be fun to add other interesting things nearby to the outdoor sink and to the kitchen. One may want a lake or a birds nest.
However, one fun idea that ties in with the idea of food and cooking is that of an herb garden. This can be placed near the kitchen and can be used to select herbs for the meals.
One thing to remember if you wish to implement an outdoor sink within a property is that it may cause some noise when it is being fitted, and this may bother the neighbors.
It may be a good idea to let them know that the work is for a good cause and that you will invite them round for an outdoor dinner when it is all finished.
---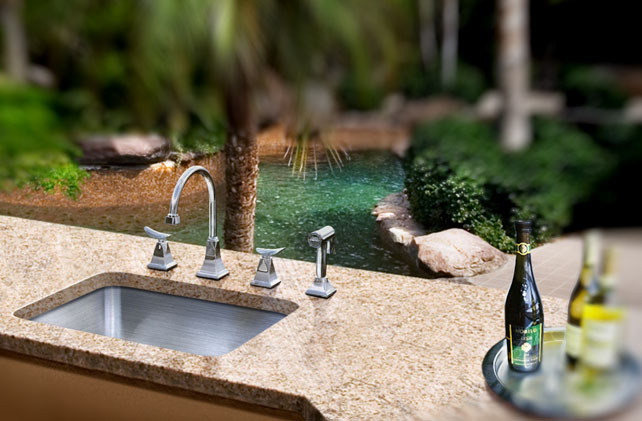 Consider This BEFORE Building Your Outdoor Kitchen (You'll Save Big Bucks!)
An outdoor kitchen is indispensable for outdoor independence, and a great way to beatify the outdoor living space of your home.
So there is no need to tell you the benefits of having your own outdoor entertainment area.
But, before you run off and get straight into building you new outdoor kitchen, stop and think about the following points.
Not only will it make your life easier, but, you will be sure to save a few bucks along the way.
The Water Supply to the Outdoor Kitchen Sink
Before you go about building your outdoor project, take note of the plumbing and drainage costs.
Many people ignore these two most integral aspects of the sink and focus on trivialities such as spice racks! We have nothing against spice racks, they are just not as important as plumbing in our book.
Pro Tip: Share Common Facilities
Make sure the outdoor kitchen is able to share current plumbing, this will save you big time…
We recommend that you plan the layout of your outdoor sink in such a manner that it shares a common wall with the house kitchen/bathroom.
This way, you can simply pass a pipe through the wall and have access to water on the outside. If the kitchen is located away from the house, you will need to dig a trench for the pipes.
If you live in a region where temperatures run below freezing in the winter, you will have to drain the pipes to prevent bursting and lay them below the freezing line (more expense).
It is probably best to have a cut-off valve for the pipes within the house.
Some people install water heaters for their outdoor kitchens – or they access hot water from the house itself (two pipes instead of one).
Do you really need hot water in your outdoor kitchen?
If yes, please consider the costs of laying out an additional pipe and/or electricity line for the water heater.
What about Drainage or Water Removal?
People put practicality last and fuss over designs and colors and style and whether their sink looks cooler than the neighbors'!
Sure, you can just dig a trench and bury the drain line but alas, water does not flow uphill.
The drain line needs to drop by at least an inch over every 4 feet.
So by the time it reaches your existing drain line, it might drop much lower (depending upon distance). Which means that you need to add a drainage pump.
Plumbing and electrics should be at the top of your priority list when designing an outdoor kitchen.
How to Install a Outdoor Kitchen Sink?
Everything INCLUDING the Kitchen Sink
There are many different types of outdoor sinks available in the market. So which one should you buy? Let us help you choose.
What is your Sink Budget?
You can get a bare bones sink for about a hundred bucks. The most elaborate ones sell for a little less than USD $ 2000. An expensive sink is a worthy investment if you are going to use it often – it is well equipped, versatile and very durable.
Thinks about how often you plan to use your outdoor kitchen…
However, if you are building an outdoor kitchen just on a whim and plan to use it for 2 days every year, you are better off sticking to the less expensive varieties. This option is also suitable for all the minimalists out there.
Drop-in Verses Under-mount
You have to choose between a drop-in design versus an under-mount. Under-mount seems to be the current trend – it looks smooth and coherent and is most suited to expensive kitchen counter tops.
The seamless design also makes it very easy to sweep in spilled liquids directly from the counter-top into the sink. However, replacing an under-mount is a very cumbersome affair. It is almost impossible to remove without removing the counter-top as well!
A drop in sink has a bulging border that sticks above the counter-top. Dirt tends to collect along the edges that are formed due to the angle between the bulge and the kitchen top.
Drop-ins are also considered to be less visually attractive than under-mounts. However, to their credit, drop-ins are very easy to replace.
What are your Sink Requirements?
Some sinks have their own faucets. Others have a hole where the faucet goes in.
What are your requirements –
Do you have cold as well as hot water supply?
Do you want separate faucets for cold and hot water?
Do you want a single faucet with integrated hot and cold water supply?
Do you want two faucets if you have a double bowl sink?
Should each faucet have both hot and cold water supply?
Factor in everything before you make your purchase. Choose faucets that are made up of brass, avoid the ones that are manufactured using plastic or chromed metal as these will wear out faster.
Stay away from compression faucets that have washers and seals made out of rubber as these give away very quickly in outdoor conditions. Faucets that feature ceramic disks tend to last the longest.
---
5 Top Outdoor Kitchen Ideas – (The Last is a Must Have)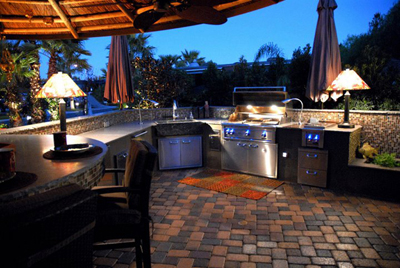 Kitchen is one of the places where the entire family comes together and spends quality time together.
During fine weather, you could make it even special by shifting that outdoors.
To have more fun outdoors, people are now opting for a complete outdoor kitchen.
It is important to gather top outdoor kitchen ideas such as having an excellent outdoor sink and implement one of those to make this endeavor a success.
Right from the location to the appliances to the comfort level, you should think about everything so that you have lots of fun while cooking outdoors in your outdoor kitchen.
Here are our 5 top outdoor kitchen ideas for you to explore.
The best location for your outdoor kitchen is either the patio or the deck. Remember that the outdoor kitchen should be very easily accessible from the house so that you carry food and drinks with ease. While thinking of the location, also think about the plumbing and electricity. Every amenity should be within easy reach.
Next, you should think about the appliances. There are a few accessories that are absolutely required such as grill, outdoor sink, refrigerator, wine cooler and ice maker among others. You could also buy coffee maker and food processor based on your requirements.
Lighting is something you shouldn't forget. Halogen track lights are ideal. You may want to get fancy with a outdoor chandelier. Along with overhead lights, think about lights near the ground too so that people watch their steps as they walk. Table top lighting is always something that can set the mood for the room
If summers are a little too hot in your area, you might want to install fans.
When it comes to choosing materials for your outdoor kitchen, choose those that will not be affected by the weather. Wood should be of very good quality such as cedar or teak. The flooring should ideally be of cement or stone tiles. You could also choose treated wood. All the furniture should be weatherproof, too.
To complete the look, add a few items that increase the comfort level such as umbrellas, awnings, etc. However, be very careful not to shut out the breeze. Outdoor kitchens are all about allowing nature to do its magic. Let the breeze and sun come.
If you want to, you could include a television and speakers.
You can buy all these appliances and furniture required over the Internet with ease or in local retail stores. Just make sure that you buy from the right seller to be sure of the quality.
---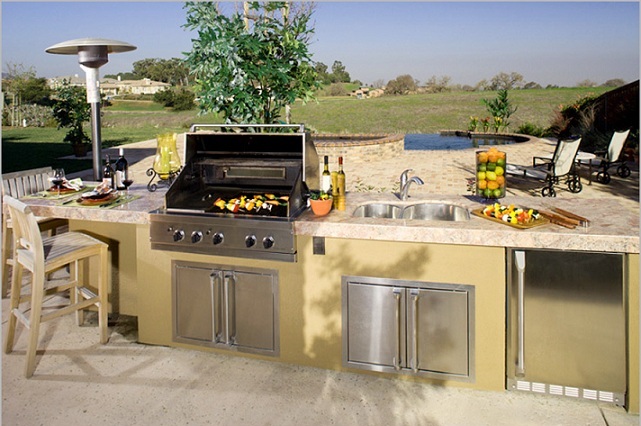 What is the Best Material For An Outdoor Kitchen Sink?
The feeling of cooking on an outdoor kitchen is great, because outdoor living during the warmer months is awesome.
If you're thinking about setting up an outdoor kitchen, then you will need to make some decisions.
If you don't make your informed decision early on, when choosing the materials, you may end up being a little poorer and frustrated.
Choosing the right material for your outdoor sink is the most important part. This is because there are many materials you can use for your sink, but admittedly, not all of them can stand up to the test of time.
You will need a material that is not only easy to clean, but is affordable and resistant to rust. In this respect, we have list a few options.
Aluminum
Aluminum and are readily available and affordable, but they can easily scratch and show watermarks. Aluminum will never rust,unlike some stainless steel.
Stainless Steel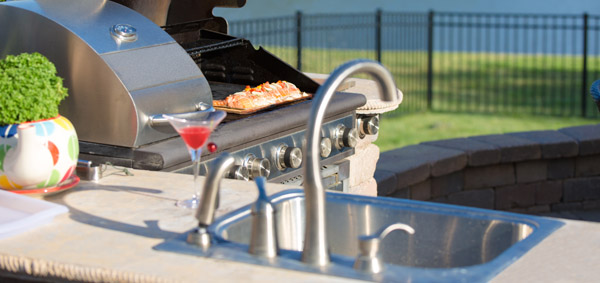 Stainless steel is one of the most recommended material. It is strong, easy to maintain and will not break the bank.
Understand that not all stainless steel is made equal. Sinks made for inferior materials, such as the 430, have more iron and consequently, they are more susceptible to rust. This is especially relevant if the sink is imported from China, where the steel quality is poor.
There is a good trick to tell the difference. If the steel sticks to a magnet – it is probably low grade stainless steel. Some grades such as the 304 (18/8) have higher resistance to corrosion. 304 grade stainless steel is non-magnetic due to its high chromium and nickel content.
Hardened Glass
Some sinks are even manufactured out of hard glass! Such materials definitely outclass stainless steel in the aesthetics department. However, they are not portable and also tend to be more expensive – considering the cost of running outdoor plumbing and drainage.
Go right ahead with the exotic materials if price is not an issue for you.
Stone Sinks
Stone is resistant to rain and sun, but you must reseal it each and every year. And, if you live in a polluted area, stone sinks may not be ideal for you. They do look good, if you going for that farm sink design.
Composite
Composite granite sinks are beautiful, durable and do not show scratches or water marks, but are really delicate. In fact, some break during transportation.
Fireclay
Fireclay or Ceramic is certainly a great material to use for an outdoor kitchen sink. It is manufactured from clay, and fired at extremely high temperatures. Also, it is chip, scratch and stain resistant, durable and stylish.
And if you need something easier to clean, then this is your ultimate solution. It has a greater amount of minerals and hence is thicker, denser and heavier than clay. Not to forget, this material is resistant to rust, making it a perfect choice for use in your outdoor kitchens.
You definitely do not want to be frustrated and thus you need to look for a material that best addresses your needs.
OK, with so many materials available, which is the best for your outdoor kitchen sink?
If you had to pick, it would be FireClay or Ceramic. Fireclay has all the features that you will need in an outdoor sink material. Besides, it is readily available in a variety of colors. As with all the hard sink materials, the only downside to FireClay, is that you can easily break your cups, plates and good china.
However, regardless of which sink material you choose; whether aluminum, stainless steel, composite granite or fireclay, you need to take into consideration the style and size of your sink.
With this information in mind, you will be ready to make an informed decision and thus avoid unnecessary stress. The ultimate choice rests on you!
---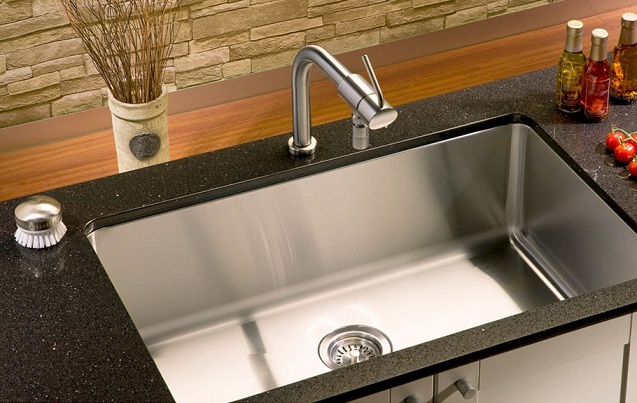 Everything You Need To Know About Under-mount Sinks
Undermount sinks are becoming increasingly popular these days for homes with modern interior.
And because more and more owners are switching to solid countertops, it becomes a favorite choice to individuals who are working on their kitchen renovation.
If this is your first time to learn about this type of sink, you have come to the right place because this article will discuss all the valuable facts about undermount kitchen sinks.
Read on below to know more.
Difference from Conventional Kitchen Sinks
Under mount sinks differ from ordinary kitchen sinks in a number of ways.
One difference is that they do not have the typical lip and faucet holes that you normally see on most sink counterparts. Instead, it is hanging under the kitchen counter and requires the installation of faucets right at the countertop itself.
Another distinctive characteristic that an under mount sink has is that it is has heavier weight than a normal kitchen sink. For this reason, it is not recommended for counters made from tiles and laminates. However, it is considered the best choice for solid surfaces like soapstone, granite, concrete, and marble.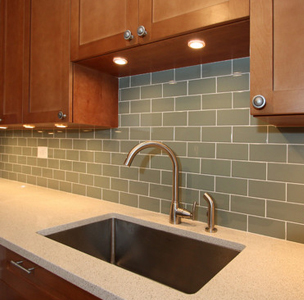 Positive and Negative Points
The following are the pros and cons of an undermount sink.
Pros – Apart from being minimalist, stylish and attractive, they also eat up less counter space and are easy to clean, which also apply to copper undermount sinks. Because there is no rim that catches dirt and other solid objects, you can conveniently throw scraps straight into it without having to worry about clogging.
Cons – Generally speaking, undermount types are more expensive than conventional sinks. In addition, they only work well when installed with waterproof and weight bearing countertop materials, tend to have under-the-counter condensation accumulation which can promote the growth of molds, and may require a bit more work since it requires faucet installation in walls or countertops.
Installation of an Undermount Sink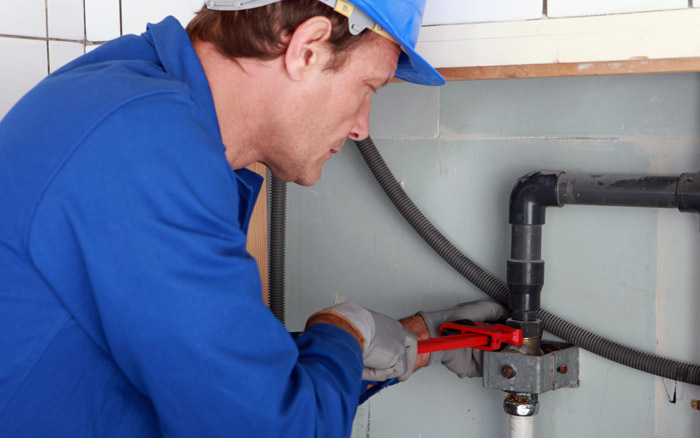 To prevent leaks and to ensure proper sink support, proper sealing and installation is required, even if they are small undermount sinks. Whether it is an indoor or outdoor sink, it needs to be attached with two coatings of epoxy and then sealed with a silicone substance on the outer edges.
And those were the most valuable facts about undermount sinks. If you are tired of seeing your old kitchen sink, now is the perfect time to spruce up your countertop by installing them in the kitchen or at your most convenient outdoor space.
---
Tips On Finding The Right Bar Sink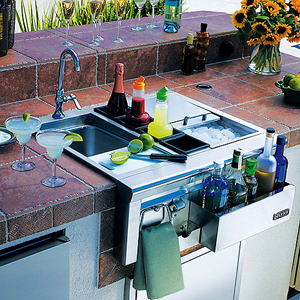 Also referred to as a prep sink, a bar sink is a sink variation that is usually smaller than an ordinary kitchen sink and can be installed almost anywhere – inside or outside your home.
As its name implies, bar sinks are installed where a home bar is located.
Whether it is in the basement, on the second floor of your home, in your outdoor mini-kitchen, or wherever an outdoor sink is necessary, the bar sink is a multi-purpose unit that can be used for anything.
Tips For Choosing The Right Bar Sink
The following are tips to help you select the right sink.
The first step when choosing a bar sink is to determine the would-be location of the sink and how you are planning to use it. For instance, if you plan to use it on the room, most likely you will only use it for getting water, washing your hands or rinsing dirty drinking glasses. If this is the case, a small bar sink that measures 15 inches or less might just be what you need. Meanwhile, if you are placing it in the basement bar or in an outdoor grilling area, you may want to go for a bigger sink that is wider than 15 inches.
There are numerous choices when it comes to colors, sizes, styles, and materials of this sink. If you are looking for a nice weathered look in your bar, a copper bar sink may be your best bet. Another good option is the sink that comes with 3 holes. But when choosing this, make sure that it will go well with the fixtures placed on your counter top.
Apart from the sink itself, you also need to choose the type of bar sink faucet that should come with it. Nowadays, there are loads of choices available; however, the most favorite choices are single lever faucets. With regards to finishes, you have to opportunity to choose from brass, polished nickel, chrome, pewter or brushed nickel. Whichever finish you select, make sure that it complements your sink as well as your counter top very well.
Remember that before making a purchase; make sure to take a trip to a plumbing showroom near your area so that you can get a better feel of how their sinks and faucets actually work.
---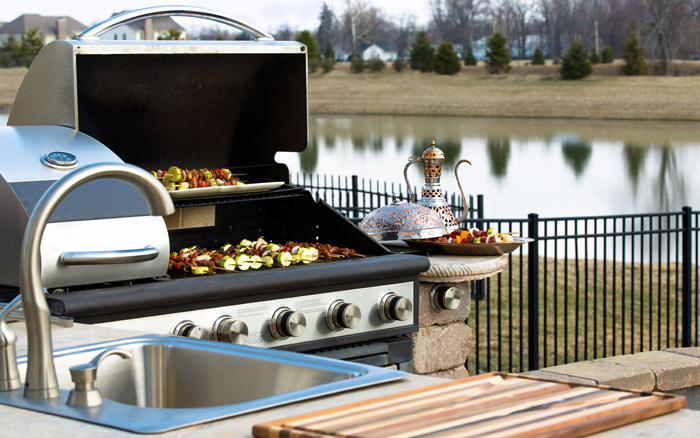 10 Essential Outdoor Kitchen Accessories (…a few can be hidden?)
Outdoor kitchens are an excellent idea during summer.
You can entertain your guests with ease and cooking will be even more fun.
An outdoor kitchen actually provides a lot of versatility.
You can also use intense cooking methods without worrying about smoke and the overpowering aroma.
If you are considering an outdoor kitchen, you should know of all the essential outdoor kitchen accessories that your kitchen should be equipped with.
List of Outdoor Kitchen Accessories
There are plenty of accessories that you'd want based on your requirements but every outdoor kitchen needs a few basic accessories. Some of these accessories have been expounded below.
The grill: This is the most important accessory because this is where you will do the cooking. You have too many options of grills for outdoor kitchens to choose from. Make sure you choose something that is large enough to entertain many guests every now and then but also, not so large that it requires too much cleaning and effort. Also, you have the choice of picking from propane, charcoal, and gas grill. What you choose will depend on what you think is best for your cooking needs.
Refrigerator: Just like in an indoor kitchen, you need a refrigerator in your outdoor kitchen. This will keep things cool and fresh especially during summer. Alongside, you could invest in an ice maker if you plan on entertaining your guests with chilled beverages.
Oven: You need an oven to quickly make pizza or similar dishes. An oven is always handy.
Outdoor sink: No kitchen, whether indoor or outdoor, can do without a sink. You need a sink in your outdoor kitchen for washing as and when required. Make sure you invest in a good one.
Other requirements include searing station, burner, side burner, and the required utensils.
When buying essential outdoor kitchen accessories, make sure you think of accessories that will make cooking easier and fun for you.
The whole point of an outdoor kitchen is to have some fun and to enjoy with your family and friends.
If you don't have the right accessories, your fun factor will be minimal because the lack of equipment will irritate you and you won't be able to really cook what you want to.
These essentials always vary.
You may add to this list of essential outdoor kitchen accessories based on your requirements.
The whole point is to have everything you might need for your outdoor kitchen so that you can have an enjoyable time.
If you need more information about anything in this article let me know on the contact form.
Happy entertaining!