Rediscovering the Outdoor Deck
Have you ever thought of putting up an outdoor deck on your home?
We did it and will share the photos of that here when we get a chance.
If you have, here is what you may need to know about them.
Just like the sun rooms, the decks are extensions of the main house, but unlike the sun-rooms, they don't have a roof over them. However, some have outdoor shades or sails over the deck.
A deck is a recreational area where you stay when you want to catch some sun, or read the newspaper or do some BBQ grilling.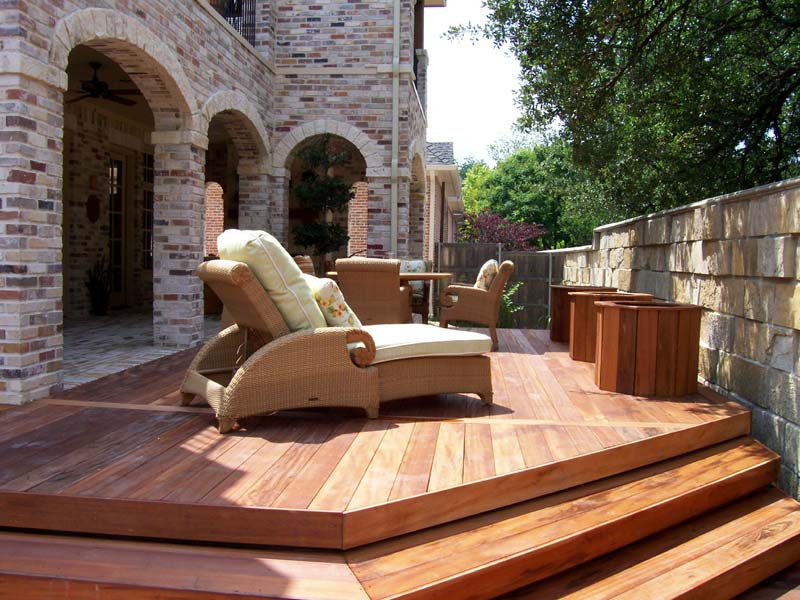 Ideal Outdoor Decks
What are Some Popular Designs and Styles of Decks?
While there are various styles and designs that can be used for these areas, home beauty experts urge that whichever design or style that you choose, ought to match with the existing design, or to enhance uniformity and continuity.
These are some of the most popular deck designs:
Contemporary deck design – Contemporary design is a crossroad of traditional and modernity. In this design; little is better. Simplicity is the theme in contemporary designs and materials used are sparse and sleek. Low maintenance is also key element here.
Traditional design – A design is considered tradition if traditional materials and themes are used in its construction. For instance, the redwood and cedar are popularly known for creating traditional deck designs.
Mountain design – This design is nature-inspired. When considering a mountain deck design, use of strong logs and heavy timber enhances the overall look. You want it to appear as sturdy as its adjacent environment: the scenic mountain region.
Colonial design – The elements of classical design and architecture reign here. Such include having planter boxes, benches and so on to accentuate this style.
Coastal deck design – If your beautiful home is located at the coastal line and overlooking the ocean, this is the design for you. White railings and strong materials such as PVC are recommended to maximum blending with the environment as well as durability.
Some Common Features of the Outdoor Decks
Privacy Screen great for Outdoor Decks
Decks, most of them, have some features that are not just meant to enhance the aesthetic appeal, but also make them habitable and comfy.
The features to be incorporated should compliment your style and improve value. Features such as benches, fire pits and custom deck furniture are absolute necessaries for a comfortable outdoor deck.
Other luxury features include Hot Tubs, complete with outdoor privacy screens for decks; outdoor carpeting for decks and hanged plants over a pergola are all great ideas for a luxurious space.
Great Building Tips
An outdoor deck is pretty much or less, like a screened porch. When contemplating to build one, these tips can come in handy for you:
Choose low maintenance materials
Check popular deck plans online
Choose proper deck lighting system
Choose deck railings materials and design carefully
Maximize on space; both on and under your deck
Consider your budget before you start constructing the outdoor deck
Include all necessary features to make your deck elegant and functional.
Outdoor decks are great spots especially in summer or during spring. The process of constructing one is simple, straightforward and cost effective. Introduce some new lease of life into your home by adding a deck! The benefits are enormous.
Advantages Of Screened in Porches
Can't wait to witness the spring blossoms or enjoy the summer breeze while sitting at your porch? For most people, there is nothing finer than having a screened porch during spring and summer. The following are the advantages of having porches with screen.
best screened porch
Avoiding Bugs
Perhaps one of the most annoying parts of the summer months outdoors is the presence of bugs. Depending on the season there can be a variety of outdoor bugs that can be a terrible nuisance. With a properly screened porch, it makes it much easier for people to easily and comfortably eat at the porch and spend time outdoors for extended periods while avoiding contact with bugs and having insect bites.
Protection from the Sun
With a proper canvas screen, these porches can protect people from the rays of the sun. Rather than always having to consistently slather up with sunscreen or use an umbrella in the backyard, this type of porch offers extra shade and shelter from the sun's powerful rays. This can also make spending time outside more enjoyable for family and guests. Offering a break from the heat of the summer day is a great advantage to a screened porch.
screened in porch at home
Protection from the Rain and Elements
With a protected porch area, people can enjoy having even nicer patio furniture as well as an outdoor space that will not be ravaged by the elements.
Wicker furniture and other nice touches can be added to a porch with a screen without having to worry about these items getting broken or damaged. This shelter can also allow people to enjoy the outdoors even while it is drizzling or raining.
RELATED POST: Porch Maintenance Tips and Tricks
Installation Tips
Coming up with screened porch ideas is not difficult since a lot of concepts and designs are available. Many home improvement companies and retail outlets sell screened in porch kits and it is also possible to purchase these kits online.
With the help of these instructions, customers can easily transform their outdoor spaces into special screened porch areas. Here are some tips to guide you.
The first thing you need to do is to measure the space that is needed so that you can find the right kit for your needs.
After establishing the correct kit, you need to find the best value as well as high quality materials for creating a screened shelter.
Using high quality materials will make sure that the structure can withstand the test of time and will better sustain itself amidst rains and other naturally occurring phenomena.
Low quality materials for building these porch structures will only ensure that the structure will not last for so many years and may fade in color after just a few months of use.
It is important that you always remember to trust a reputable dealer and if they are not confident in their abilities to assemble one of these structures, it is important to seek professional installation.
Ideas for screened porch
A porch such as this can bring about a number of different advantages for people who generally enjoy spending time outside. Not only does it add value to a home and its aesthetic appeal, but a screened in porch can be amazing for entertaining guests and enjoying more time outside in comfort.
Important Considerations of a Sun Room
Do you like to hang out outside but is limited by the weather? A sun room is a room extension from the main house, that is normally well-plastered to insulate them from extreme temperature fluctuations. They have become so popular since they can be used for relaxation, entertainment or to just enjoy the out environment.
Ideal Sun Room here
Common Sun Room Designs
When you have made the decision to add sun rooms to your house, there are two options available to you: you can build customized or buy prefabricated. It all depends on a number of factors such as your preference, your budget and your specific needs.
Also you can make a choice between modern and traditional styles and designs. The distinction between these two is mainly the roof-types; where the more complex and modern it is, the more it will cost you. The roofing material does matter too. Curved glass roofs are classy and elegant, but are more expensive.
Features and Ideas for Sun Rooms
The way you do your house interior décor is the same way you can have your sun room's features decorated and illuminated. Also known as screened porch, the sun rooms have these features and interior design ideas.
Sunroom flooring
Choosing the best flooring material for the sunroom need not be a hard exercise. Vinyl, which is cheap yet very beautiful, can be a good starting point. Wooden floor is another option as is tiles. Choose the color and style that matches with the rest of the décor.
Sunroom lighting
While natural light plays a major role in sunroom lighting, there is still need to plan for electrical lighting. Being a relaxation joint, you may want to put in place a system of lighting that sets the mood just right. Chandeliers come handy here, and don't forget you may still need to use the room when there's insufficient natural light.
Natural planting
Natural plants are must-have here, the atmosphere of the sunroom creates the perfect environment for them to thrive. Choose plants like allamanda, dianthus among other varieties that add color and fragrance.
Windows for the screened porch
Consider windows as you would do for the main house, only that windows for the sunroom should be big in size to allow maximum light penetration. Whatever you decide on, don't forget the shades as they are overly vital in harmful UV Rays elimination and internal temperature control. Sun room tanning is greatly reduced too by these shades.
Ideas for the Sun Room Furniture
Furniture fit for Sun Room
While you are in the sun room, you would want to be sure that your comfort is not compromised. With the right pieces of furniture, you can make sure that you are as comfortable as possible while you relax. Durable furniture is of the essential due to the elements it is likely to be subjected to.
These are some of the benefits of a sun room that can be quantified and put in terms of dollars.
Other benefits are intangible and their valuable to the emotional person