If front porches could talk, the stories they'd tell would be priceless.
They could tell about the first kiss that happened or the famous checkers game that is still being talked about today.
The endless family reunions and gatherings. And all the stories that were told, would never be a secret again.
The front porch can be a very intimate place while being very public.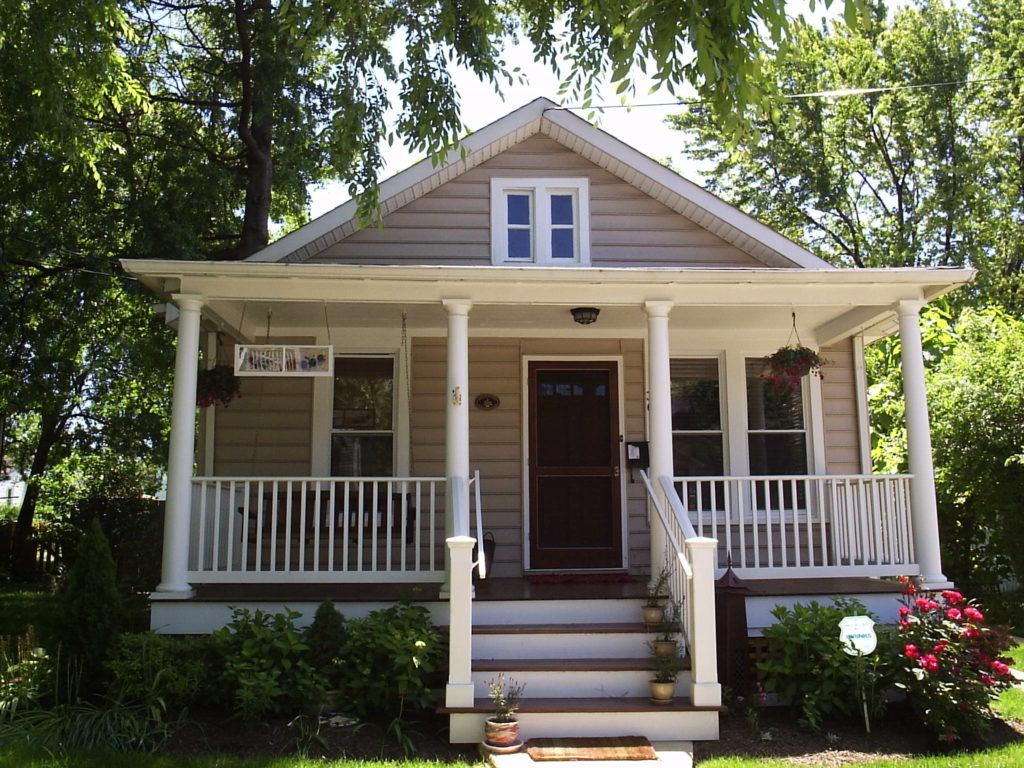 With a few basic tricks, the porch can be transformed into an inviting place that everyone wants to be.
A place of fun or a place to sit and enjoy your lemon-aid or Mint Julep.
RELATED POST: Our DIY Porch Project
A Good First Impression
The basic front porch (and railing) is the first thing you see when you look at the front of the house so naturally you want it to look classy and impressive.
Especially if you are trying to sell your house it would be most important for your front porch to have a homey atmosphere.
It will help the sale of the house and give that first impression a good vibe to go on.
Porch furniture is the first step to getting that unique look and to really make that 'wow' first impression.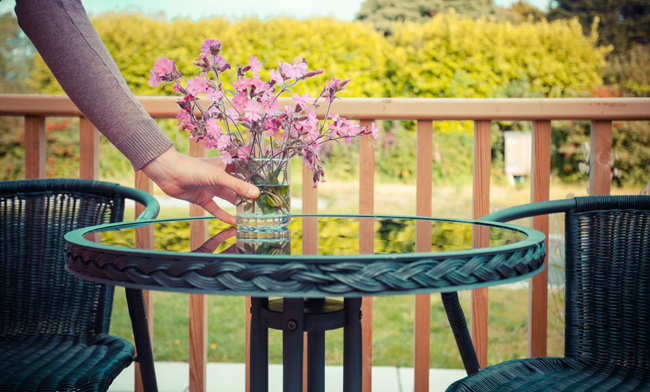 Unique Porch Furniture
When you think of Southern front porches you think of big wrap around porches with the white wicker furniture.
A few tables and chairs, maybe a rocker or a swing all made of wicker. It's object like that, that can make the porch a real classic.
There are so many arrangements that you can use with your basic porch furniture. If you go in for themes you can go for the all wood look. Cedar makes good, pretty furniture for your porch.
RELATED POST: Porch Maintenance Tips and Tricks
Then of course there's teak wood. This is usually saved for the pool area, but can be used on the front porch if it is used properly.
Go with the less is better rule. You don't want a bunch of furniture you don't need cluttering up your porch, especially if you have a small porch.
You can use the wrought iron furniture with just a table and a couple of chairs or a nice set that has table and chairs that match.
Remember keep it simple and classy. Some of the basic furniture that is found on a front porch is as follows:
Tables
Chairs
Swings
Rockers
Mini Tables for holding magazines
If you want something a little different you can have a screened porch. These were developed to keep the insects out and they are still popular.
People love to sit on their porch and watch storms or rain or just sit and watch the world go buy. These use the same furniture as a regular porch does.
Keeping the porch simple with the basic porch furniture is all that you need to create a classy yet simple look.
Remembers that the porch reflects the house already so it is always great to have a good impression and start the porch itself.
Table and Bistro Chairs
If you want to use your porch to relax or even entertain guests, bistro chairs are ideal accessories to include. You can get about two or three chairs.
These chairs allow you to create a seating area without blocking your house entrance. You can place two bistro chairs facing each other to create an intimate seating area on your porch.
Rocking Chairs
To create a relaxing spot on your porch, you can add a couple of rocking chairs. Place the chairs against the wall to allow you to enjoy the outdoor view.
RELATED POST: Porch Railing and Balustrade Design
Additional Porch Accessories To Brighten Your Home
Your porch is the first thing that people see when they walk up to your house.
So it goes without say that your porch accessories can help you make a good first impression on your guests.
They can also enhance your home's curb appeal.
Here are 10 front porch ideas and accessories that you can use to create a relaxing space on your porch.
Hanging Plants
Hanging plants are an ideal choice for a porch because unlike flower pots, they do not take up any floor space.
Hang the plants by your porch walls. You can also hang them from your ceiling but this will depend on the ceiling height.
Cushions and Throw Pillows
Use cushions and throw pillows to brighten up the chairs you place on your porch.
Select vibrant colors and bold patterns to complement the outdoor texture.
Attachable Mailbox
A mailbox can be both functional and aesthetic. You can install a mailbox on your porch to make it easy to retrieve mail.
Paint the mailbox to match the floral and plant arrangements on your porch.
Artwork
Another great way to brighten up your porch is to hang a few pieces of art.
Hang the artwork on the porch walls. Make sure there is a piece of art on every side of your front door.
Welcome Mat
A welcome mat will help to add some texture and color to your porch. It will also prevent dirt from getting inside your house as people walk in.
Choose a mat in a bright color or something that has an appealing image. The mat has to be strong enough to remain in place when people walk on it.
Wall-mounting Lights
Install some wall-mounting lights on your porch walls.
The lights will brighten up the space and allow you to sit on the porch at night.
Lanterns
Place some attractive lanterns on each corner on your porch to light up the space.
Coat Stand
To keep wet coats, umbrellas, scarves, and hats out of your house in the winter, you can place a coat stand on your front porch.
Select a unique coat stand that can also be used as a decoration.
---
RELATED POST: Screened Porch – Screening the outdoor deck
If you have any more porch ideas, let me know in the contact form.
I'm getting to all the pictures together soon. I have this project that I am currently working on right now, to show the different aspects of this design. Stay tuned.