Does your existing home or even the house you are planning to build, feature an entry landing or rear decking?
Then then for safety reasons, you should already be planning the style or design of the decks handrails.
Similar to the rails used in other parts of the house, like balconies and verandas, they add a unique touch or accent to the overall look of your home.
The beauty of your home's entrance way decorations, should be one of your priorities, as curb appeal is so important, since it's the first part of the house that people see and visitors get access to.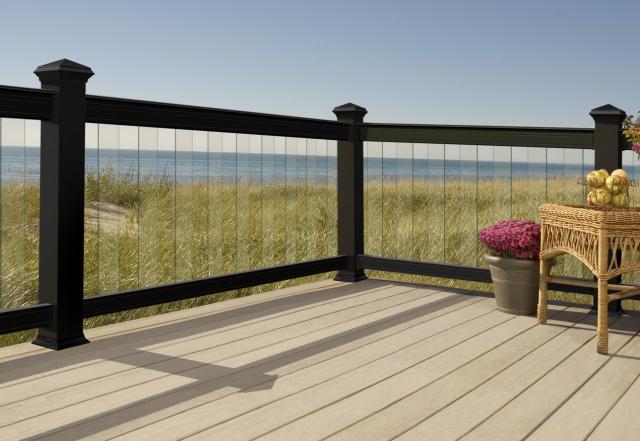 Search for the Best Quality Porch Railings
Reasons to Consider Installing Decorative Hand Rails And Balustrades
In most cases, installing handrails to your deck or front porch is required. Any entrance area or a decking that is more then a few feet of the ground will require you install protective handrails and balustrades.
So safety is the first reason to have them installed.
If you are still indecisive as to whether you should install rails or not? We have put together following points which should provide enough reasons as to why.
Beautifully designed deck rails will add value and contribute to the beauty of your house. Any extension, extra room, or accent and design you add and built in your home will generally have an effect of adding to the market value of your house. Hence, if you have plans to sell the house in the future, the railings should augment your asking price by a couple of thousands. On the other hand, one of the main benefits of the hand railings is to contribute to your house's beauty.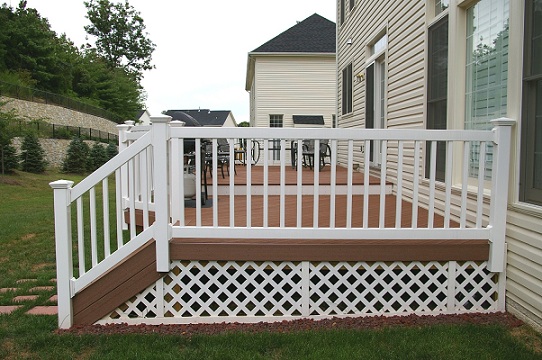 Outdoor Vinyl Porch Railings
Balustrading provide security for the elderlies and young children. As previously mentioned, the majority of front decking, built on homes are usually raised by a couple of inches or feet from the ground. This could prevent risks for seniors who take some time relaxing and for children who love to play by the porch.
They direct people to use the main entry point or front steps. Without your entry rails located on the sides, people could freely access your porch or your front door in all sides or angles. They help direct them to the main entry or gateway.
Types of Balustrades You Could Install
There are several options when it comes to the balustrades you could install on your front landing. They will often vary according to the material used or style and design.
The type of materials used in balustrades is enormous. They comes in many different types of materials shapes, style and designs, that choosing the right system and design for your home can be quite difficult.
Here is a small list of the most popular styles, just to wet your appetite.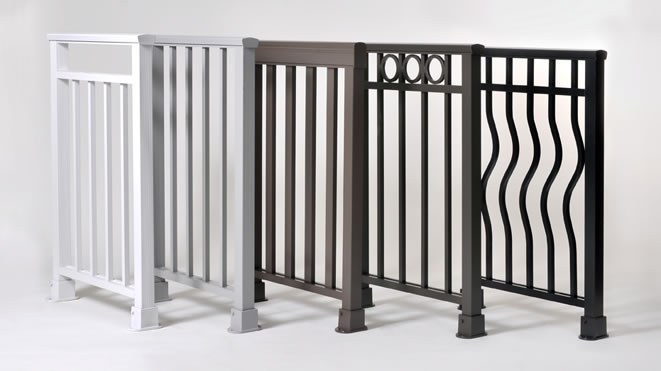 Residential Porch Wrought Iron Railing Designs
Wood Rails

– The most common material used in majority of the homes is wood. Wood railings are cheap and readily accessible. There are ready-made or installable sub-types such as the different types of wood balusters. Examples include the turned and the sawn balusters. The lattice sub-type is also popular.

Metal Hand Rails

– Compared to wood, the metal or iron types are more durable. They are also flexible enough to be shaped and styled in several forms. If you want a traditional, classic, and elegant look for your porch, then you should opt for the intricately styled wrought iron railings.

Concrete Design

– If your entrance way is built with concrete, then it is but ideal to place railings that are also made from concrete too. These types of railings can be built on-site or you could install the prefabricated concrete balusters sold by hardware stores.

Glass Panels or Panes

– The most modern type of decorative railings are usually those that are crafted with glass. Glass is stylish, classy, beautiful, and valuable. The typical method of installation is that, glass is usually encased with aluminum or metal frames to give a contemporary design.

Vinyl & PU

– Another modern alternative for the types and materials mentioned above is vinyl and Polyurethane. The good thing about vinyl is that they are more resistant to weathering, a quality fit for the porch that is located outdoors.
For a more comprehensive list your should visit our article about The best balustrade Design to Suit your Home's Personality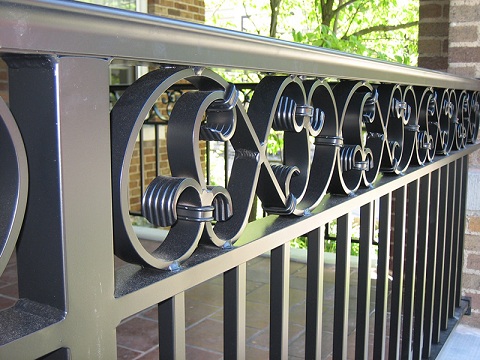 Exterior Aluminum Front Porch Railings Style
Choosing from these types of railing systems is easy if you know your needs and preferences. These railings are surely an investment for your house. Hence, prioritize your porch to make it beautiful at the same time functional.
Contemporary Railing Styles
What is the impact of an effective railings to the overall functionality or aesthetic of a structure? Porches, decks, steps and stairs all share one common design restraint: most of them require the use of hand rails.
Building codes place very set requirements on the rail part of the railing system and on the nature of the rest of it.
The height of the rail, the size of any openings on the part beneath the rail, and the strength of the support system are all strictly controlled by building codes because the primary function of the railing system is safety.
Contemporary railing styles make use of a greater variety of materials than do traditional styles in order to serve the secondary function of railing, decoration.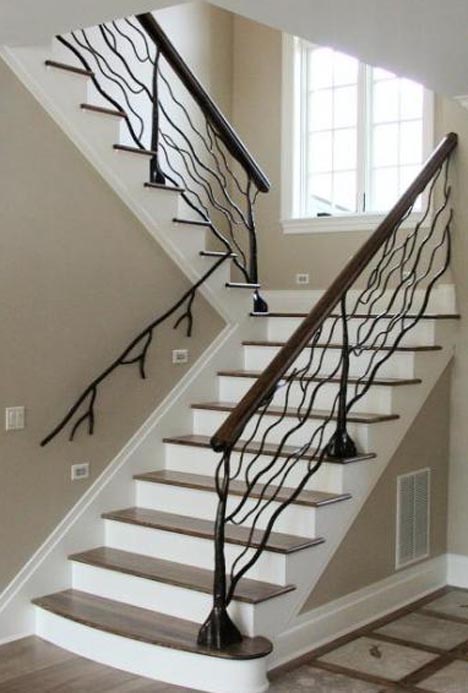 Contemporary Railings Design Ideas
Important Appropriate Style
The basic architectural elements of porch, deck, balcony, stair, and landing don't offer much room for design other than the style of the railing system utilized.
Porch railings should be given much thought as possible since they can be one of the most striking features of your home.
If the basic style of railing clashes with the style of the house it can be an eyesore. In other words, if you have a scribe-fitted log home with shag shingle roofing, your rails should probably not be art-deco.
What is Meant by Contemporary?
Modern railing systems take advantage of greater selection of materials and are seldom site-built. Traditional styles are either wooden (usually mostly site built) or wrought iron, usually manufactured off site.
Both types of railings have a top and bottom rail with straight balusters closely spaced and running vertically.
The balusters will have a maximum spacing between elements of no more than 4 inches in order to assure that a child cannot get its head into the space.
Some older homes may have "gingerbread" or other decorative elements included in railings. Contemporary railing styles can be wooden, plastic, aluminum, steel, or iron.
Instead of only vertical balusters,  the area between top and bottom railing will be filled with various shapes such as rectangles, circles, or other shapes.
As with traditional styles, the maximum opening should not exceed 4 inches because of safety concerns. Modern railing systems may also include lighting, but this may also be added to traditional railings.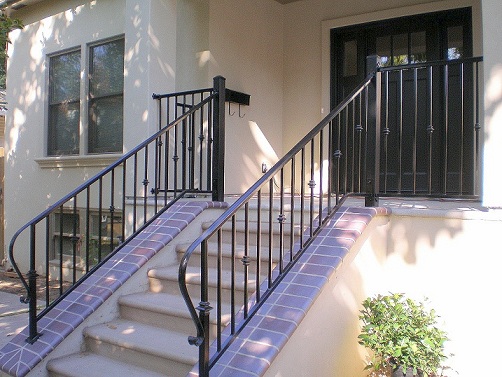 Traditional Porch Porch Railing Design Ideas
What Should You Consider When Buying Railing?
Assuming that you only consider railings that meet building code requirements, remember that railing should not clash with the styling of your house.
Some contemporary railing styles are designed to fit with traditional architecture, even mimicking traditional railing. Thousands of different contemporary railing systems are available.
Choose the best quality you can afford and do not forget the importance of appropriate styling.
Professional quality installation is a must.
RELATED POST: Porch Maintenance Tips and Tricks
Save