Installing a porch railing can dramatically improve the overall appearance of your home, as well as making it significantly safer.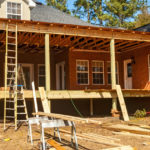 Additionally, porch railings are often mandatory in many areas if the porch is above ground level.
That being said, many people take it upon themselves to install their own porch railing.
If you're looking at a decrepit, or nonexistent, railing on your current home, you need to carefully weigh your decision on hiring a contractor to install a railing or not.
Consider your abilities
If you have no idea about porches, railings, or installation of either, then you may think that this project may be above your aptitude level, but it doesn't have to be.
Fortunately for most DIY-ers, there is a plethora of pre-made railings available in various stores and ready for a swift installation.
These railings can be bought in a number of different lengths and styles, making the biggest problem for most people simply choosing the right one.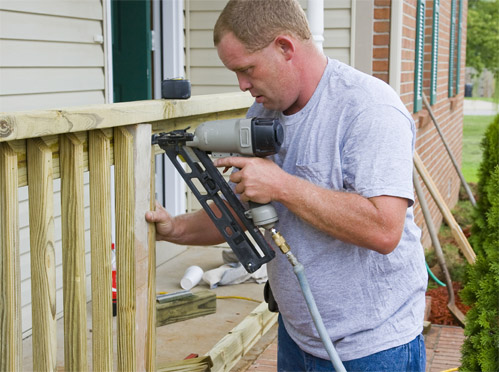 DIY Railing installations for your porch
Once you've picked out a set of railings and balusters (the posts at the end of the steps), you simply need to use the instructions that come with the railings to install them properly.
The task is generally fairly simple and requires minimal tools.
It is far easier if a second person is there helping to hold the railings and hand tools, additionally, you may need a table saw to cut some lengths down to fit the pre-bought railings into the spaces correctly.
Far more advanced handymen can build their own railings, however this task will take an incredible amount of precision, time, and tools.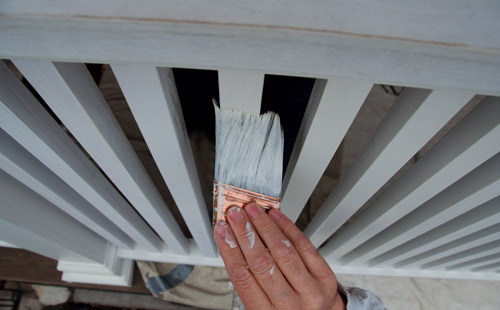 Painting your finished railings on the porch
Consider your budget
A DIY porch railing installation is going to cost far less than a professional, but this is if you are able to perform the task correctly.
Whether it's simply to save on money, or because you enjoy DIY home improvement tasks, home rehabs can be very rewarding.
It must be noted that if you end up making mistakes on your installation, then you can have a very unsafe railing that could potentially result in someone's injury. Or at worst, the entire porch may need a replacement.
If you are capable of installing a porch railing correctly, or with the help of a friend, then by all means purchase the railings and install them yourself.
If you are not very adept at handyman work, then it is probably best to hire a professional because you could end up saving a significant amount of money in the long run!
When to hire a professional
Sometimes a professional is needed, and for the installation of your railing – this may be the case. Professionals know exactly what railings will look appropriate with the house and will compliment it perfectly.
Additionally, they can also assess the stability of the existing deck and check for any flaws that may conflict with the installation of a new railing.
For those who already have railings installed, removing it in a safe way so as to not damage the existing architecture is crucial. There are key support beams for decks that, when damaged, can affect the integrity of the structure.
If a rather difficult and stubborn old railing is in place, the removal may be near impossible without the aid of a professional and their team.
Should You DIY or Hire A Professional Contractor?
The question of whether your should hire a professional contractor or attempt to take on a DIY project yourself, is an important one.
Even if you are a natural DIY person, you will still find that there are many times when you will end up asking yourself the question of whether to make it a DIY project or is it better to hire a professional contractor.
For example, if you are a little handy with a hammer, and you want to replace the rails on the porch, then this project may well be simple enough.
However if you are planning to build a new porch from nothing, then you may want to read the rest of this article.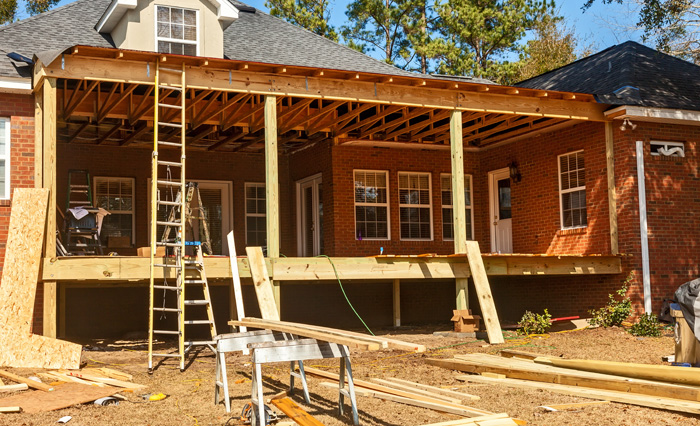 DIY Deck project
Ask Yourself – Do you have the skills for this…?
Why Do-It-Yourself?
In America, people like to do things on their own. Doing a project on your own allows you to get more out of the project, provided you are ready to roll up your sleeves and work on weekends.
Of course, there are some DIY jobs that take years to complete.
The DIY trend is gaining momentum because it is easier now than anytime before to find information about a project.
There are shows on home improvement on television that inform you how to get a job done and there are also plenty of seminars and Internet video too provide enough information to help you get the job done on your own.
According to experts, projects are very likely to become DIY projects if the project itself happens to be a small sized one and if the person who wants to complete the project is young.
If a person grows up in a home where the adult tackles all home improvement jobs then this breeds the DIY culture in the rest of the family.
However, one should not become overconfident because even if a person thinks they know everything, they might find out later that things became unmanageable.
Small problems can easily multiply and grow and this is why before you decide on whether to take up the job on your own or hire a professional you need to address a few important issues.
DIY projects also seem more cost effective but if your skills are not the best then the results will be unsatisfactory. Here are a few pros and cons of DIY versus hiring a pro.
When should you take on a DIY project?
One of the pros of DIY projects is that one can complete the job for a lower cost than hiring a professional contractor.
Labor costs can prove to be a costly resource and when it involves specialized skills then about half or more of the total cost of a project goes to this resource alone.
On the other hand, the same DIY project can be completed for a much lower cost.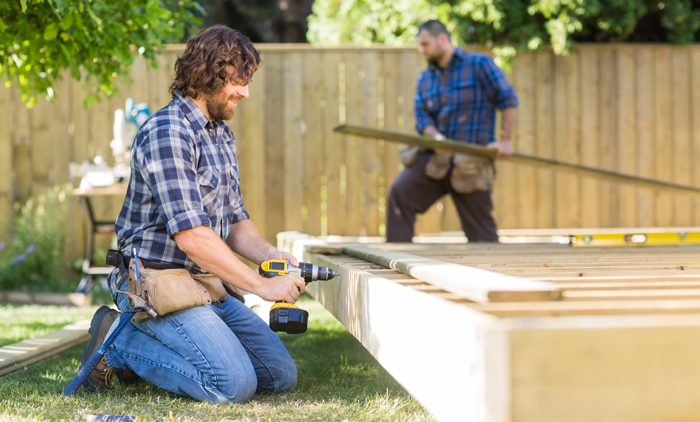 DIY a simple project
When is it better to hire a pro?
However, before jumping in and taking on your DIY project, you must address the issue of the expertise required to get the job done properly.
Expertise is something that every professional contractor worth his or her salt has in abundance. So, unless you are sure that you have the required expertise you should not think about taking on a DIY project.
Another reason why it pays to hire a professional contractor instead of taking up a DIY project is that a professional contractor assures you that he or she will do the job well.
Not only that, but the contractor will also provide you with a warranty. On the flip side, if you take on the DIY project and do not do things properly, you have only yourself to blame.
You might well end up calling in a professional contractor to finish the job that you could not do properly on your own.
When you want to take on a project and you want to know who should do the job – you or a professional contractor, you will need to address the issue of stress.
A project can turn out right and it will make you feel satisfied, but you will also be under some stress.
However, hiring a professional contractor will not completely free you of the stress, but it will be mush less than if you take on a DIY project you are not familiar with.
Just to Recap – the benefits of hiring out
First Ask – Do you really have the Expertise to complete this?
When you hire you're Guaranteed to get the job finished
The professional contractor will always give you a warranty
Hiring out is potentially less stressful than doing-it-yourself
DIY projects are more suitable for simple projects whereas professional contractors are a better option for more complex projects.
Dangerous work – You must hire a professional
Lastly, if you are planning to take on a DIY project involving electrical work or some other work that is dangerous, then it is best to entrust the work to a professional contractor.
Here are a few specialized jobs best left to professionals
Electrical works, including lights and solar
Hazardous waste removal, like asbestos.
Arborist work like – tree climbing, cutting and felling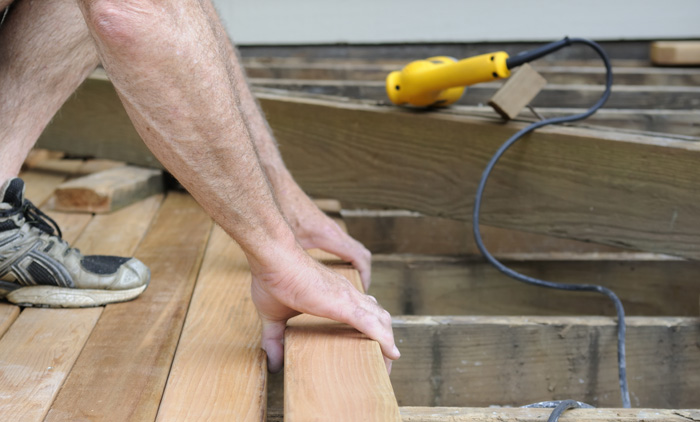 Professional Installation
Codes and Regulations
Also, before you decide on whether to hire a professional or do a DIY project you need to learn about codes and regulations.
These codes and regulations are there to provide protection to public in regard to construction as well as occupancy of buildings and homes.
In the USA, the codes are encoded in the ICC/IRC or the International Commercial or Residential Code.
RELATED POST: Porch Maintenance Tips and Tricks
Tips on hiring a pro
If you do decide to hire a pro then make sure that you get recommendations, interview prospective pros, meet them face to face, and investigate facts.
Also, make your plans and ask for bids, and set a payment schedule before hiring the pro.
Check out our adventure with a screened in porch.