I love these railings. Bold white with strong posts. Looks awesome.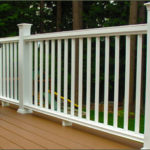 If you like it outside, then choosing the railing designs for your veranda, deck or porch. The style of the handrail and balustrades plays an important feature in the overall design.
Enough so, that it should be something carefully considered during the design process.
What Are Balustrades?
Balustrades are the columns used to support the handrails on stairways and balconies. A common place to add style and sophistication to your home.
They are also essential in commercial buildings for safety reasons.
Balustrades are not a recent architectural phenomenon. Their history can be traced back to the great Roman Empire.
The ruling elite started building huge mansions and palaces with the balustrades as a major feature of the internal and external architecture.
Balustrades provide adequate safety to stairways, decks and roofing.
When it comes to choosing the right design for your home, there are a number of factors you need to keep in mind.
RELATED POST: Porch Maintenance Tips and Tricks
Top Tips to Help you Choose the Right Railing System.
1. House architecture
The design of a house dictates the use of different railing designs. If you prefer a vintage design, go with that style for the balustrade and railing.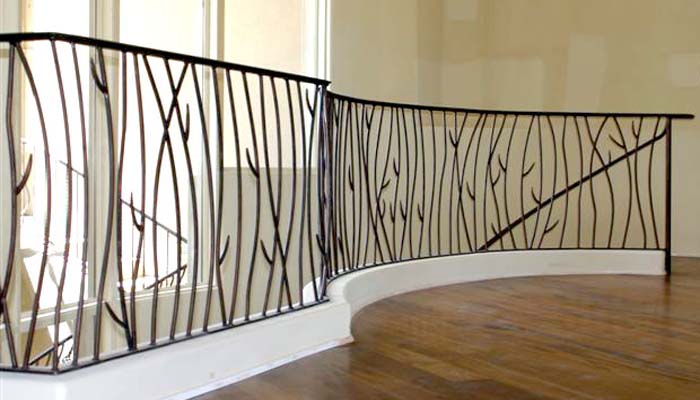 Elegant Wrought Iron Interior Railings Stairs
If you have constructed your house in a craftsmen style, balustrades in that style would look great and add beauty of your house.
In some houses, they can used on the internal balconies and staircases
Victorian-style homes usually have ornate balustrades whereas a country porch normally reflects a simpler design.
Brick homes tend to appear symmetrical and many homeowners want to add a little warmth.
Use a railing design to soften the overall appearance of your home and give it a more comfortable look.
3. Height considerations
Consider the height of each baluster. In most cases, your railing has a minimum of 36 inches, making your balusters approximately 32 inches.
Depending on the height of deck or porch from the ground, they may need to be as high as 42 inches or even more.
However, check on your local codes, you may have other options.
4. Size (width)
You can also go for turned balusters that are fairly thin in width or choose more substantially looking balusters.
Basically, the size will affects the overall appeal. Also make sure the size of your balusters match that of your porch columns.
5. Spacing
The spacing of balusters also impacts the general design. Check with your building department to see whether any codes regulate the distances between individual balusters.
For safety purposes, you may want to make sure that a child or your pet cannot squeeze through the balusters or get caught in them.
For aesthetic purposes, allow the dame distance between the blusters as the size of the square bottom section. Farther spacing often fails to deliver a pleasing appearance.
Once you have analyzed the architecture, security and other settings of your home, its time to choose the right balustrades for your home.
Small houses don't need extravagant balustrades; a simple balustrade will be okay.
As for bigger homes, you can enjoy a greater variation.
Also consider the type of material and cost.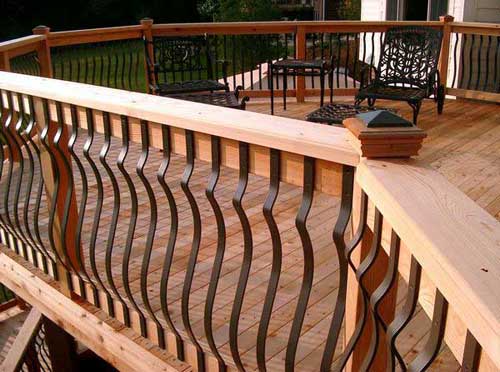 Modern Deck Railing Systems Design
Some Popular Material Types and Price Range
Handrails and other railings are available in many forms and types. They vary depending on design, material of make, design, texture and color. Here are some common types.
Just as the name suggests, the glass railing systems are state of the art see-through specifically designed to enhance your comfort and luxury.
The deck railing systems are the other common type. A deck railing basically expands your space and is considered a favorite among many people as it is easy to maintain and adds real living space to your house.
Mostly made of wrought iron, these railings add beauty to your home. Whether it is a new home or an old home, adding these railings is a sure way to boost value.
Popular Railing Systems And Their Respective Attributes
Are today's railings the same as they used to be?
No! Gone are the days when railing systems used to be dull and adding no aesthetic value to your home.
Apart from their traditional role of providing support, railings added no sense of style or elegance.
But that was in the past. Today, railings feature elegant designs, colors, styles and materials that add a tinge of luxury to your home. They are a must-have, now in every home.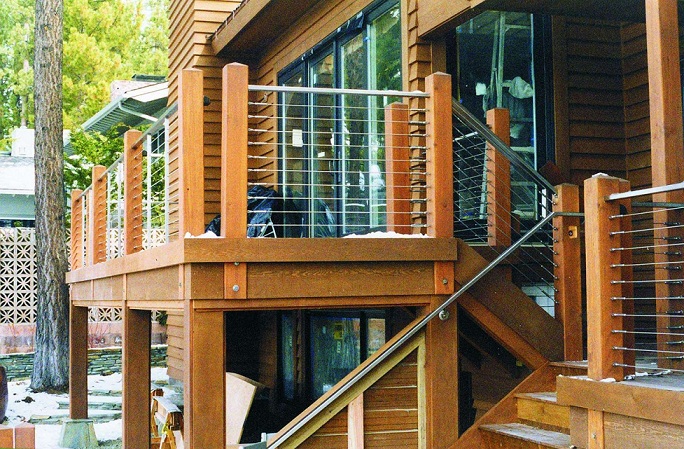 Easy Installation Cable Railing System
Picking The Ideal Railing Systems For Your Home
With all those options available to you, how do you go about choosing the most appropriate railing systems? A number of factor that you could consider are costs, strength, uniqueness and durability.
For instance, cable railing systems, when used properly could add a sense of sophistication with least costs.
So, whether you are looking for interior or porch railings, you have a wide variety to choose from.
Top Materials To Use For Stylish Railings
There are different kinds of porch railings in the market today, and all are available in different materials such as wood, steel, glass, wire and stainless steel. The most important thing to keep in mind while selecting a handrail system is the security.
You can always select the most beautiful one, but be sure it fulfills all you needs and provides security for the area you want to use it for. The following are the most popular types of materials mostly used in homes.
1. Glass
Glass is lauded for the style and elegance they bring. In most case, they are employed as balcony railings and in pool areas because they offer unobstructed view of the outside.
If used indoors, glass balustrades allow for more natural light giving your home a cozier and natural feel. What's more, they are boasted to coincide with most architectural designs.
These glass versions are also considered safe as they are regulated by safety codes to ensure support and stability. Another great feature is that they are easy to maintain.
A simple swipe with a cleaning material and you are able to restore its clear and transparent look.
Benefits Of Using Glass Railing
While all railing systems have their intrinsic benefits, the glass rails seem to be the most preferred because of these additional benefits over the other types of railings.
Apart from glass railings being low maintenance, they are also extremely stylish and elegant thanks to their lack of visible rails. Glass offers continuity that is unrivaled, and is very easy to maintain and clean.
With glass causing no obstructions, you are able to have clear views of your surroundings. This confers a myriad of benefits- both psychological and physical to you.
Glass is one of the materials that are known to be resistant to the hostile weather elements. Not only is it resistant, but will also protect you as you enjoy your stay in the decks. It can withstand virtually all elements really good.
You could be tempted to think that because it is made of glass, it is susceptible to breaking and shattering. However, this is not the case. These glass panels used here are the safest and most versatile panels available. You can even install on your own.
Due to the fact that glass rails don't have spaces in-between as would be the case with wooden or metallic rails, children and pets are safe as they cannot get stuck. This saves you the horrors of finding your kid stuck in-between the rails, helpless.
2. Stainless steel
Stainless steel railings, especially in modern homes are sometimes considered decorative artworks in itself. They provide the homeowner the necessary support for his/her staircase while still giving the home a stylish appearance.
When matched with the modern day glass, they are extremely attractive to look at. Since most of them have a clean finish, they complement glass windows clear lines. Together, they add appeal to a home and may function as conversation pieces when guests come over and visit.
Stainless steel varieties may not even need to match anything as some can hold their own as a functional décor. With the advanced technology we have today, they can be styled according to the owner's needs.
Getting carving designs on their surface is also possible. With stainless steel, you can also get slender-looking or stocky-looking designs.
Stainless steel balustrades are considered the strongest and most durable of all kinds of balustrades. They require very little maintenance and can used along with other materials such as glass and timber.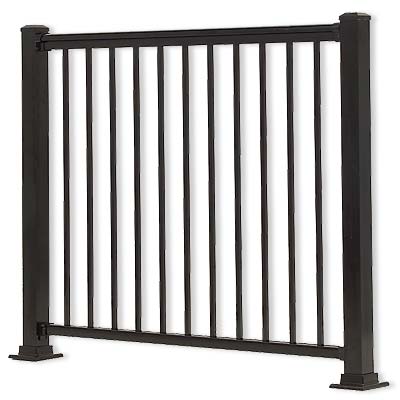 3. Wood
The most common material used in majority of the homes is wood.
Wood railings are cheap and readily accessible. There are ready-made or installable sub-types such as the different types of wood balusters.
Examples include the turned and the sawn balusters. The lattice sub-type is also popular.
Wood is the most flexible material used to make turned and simple horizontal balustrades. Apart from conventional, you can always get a modern look through the wooden balustrades.
Timber is a very popular material for designing staircases and handrails. Wood can be skillfully crafted to balance your existing staircase. They are unique in both antique and modern styles. Apart from safety feature, wood can add style and classic look to your home.
They are available in different colors and designs and this means you can easily choose the one that suits your needs and taste.
Benefits Of Using Wood Railing
The benefits of wooden railings seem to be the most widely used and preferred by DIYers over the other types of railings.
Available in a wide variety of styles

Easily Painted or Re-painted

Can be modern or traditional

Craftsman style

Ideal For Kids And Pets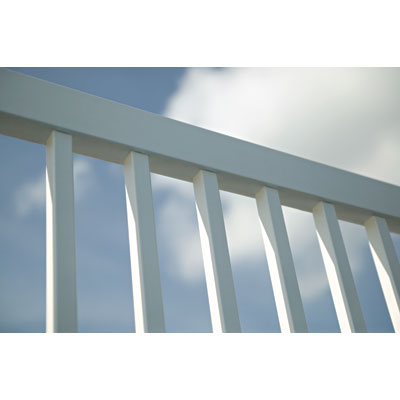 4. Wire
Wire railings work in both commercial and residential buildings. However, these systems need to meet strict requirements regarding spacing and tension of the wires.
The wire balustrades can easily give your home a modern look, while still providing you with the necessary safety.
5. Stone
Stone handrails and balustrades are mostly used in luxury home and other buildings. Stone balustrades are made in 2 different ways; cast or carved.
Carved stone is more expensive than cast stone. Marble is the highest-quality type of stone available; it's elegant but extremely expensive.
6. Polymer
Polymer balustrades are made to look like stone balustrades but are made from a cheaper and lighter material than stone. Essentially, these rails are synthetic stone made from a mixture of polymer resin, limestone dust and pigment.
They are available in a wide variety of designs.
7. Vinyl
Vinyl is known to make a decent, low-cost railing system. This material is inexpensive, durable and requires very little maintenance.
This is a good choice if you want a decent look but don't want to spend too much money.
8. Polyurethane
Polyurethane is also quite popular for many homeowners. They are lightweight, very durable and cost much less than other railing systems.
9. Aluminum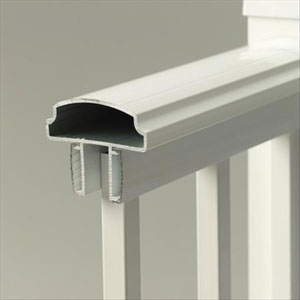 10. Wrought Iron Railings
What are railings and how are they important? The wrought iron railings are the most popular kind of railings found around home.There are both interior and exterior wrought iron railings.
Just take a moment and imagine the stairway, the balcony, the windows and even the doors of your beautiful home without railings. It certainly, not a very good picture to see.
So it is worth noting that, balcony or other kinds of railings are structures that are usually erected to add the aesthetic value to your property, as well as provide some level of safety.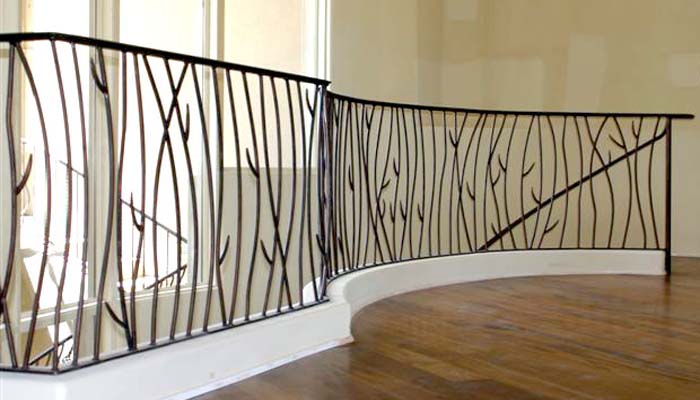 Elegant Wrought Iron Interior Railings Stairs
Why are Iron Railings Considered Better than Others
The elegance and sheer strength of the hand-forged iron that's used to make customized iron railings is usually the major selling point. Besides, wrought iron has additional advantages over other materials. These advantages include:
Versatility of wrought iron – Iron is versatile in terms of designs and styles. Whether traditional or modern or contemporary, you are sure to find a design that best suits your needs and preferences.
Customizability – If your design you are looking for is not readily available, iron can be easily customized to suit your needs. This is made possible by the fact that iron can bend without breaking.
Durability – There is no other material that is as long-lasting as wrought-iron. It is not affected adversely by vagaries of weather; not prone to rot and does not splinter or crack. Moisture is the only thing that makes iron rusts, and that can be avoided by laying a coat of protective paint over it.
Strength and security – Due to its strength, railings and fences made of wrought iron are hard to damage or break. Thus, on top of adding value, iron-made rails provide security to your property.
Low maintenance needs – The most you can do for an iron railing as maintenance is applying a coat of paint. Other materials used to make railings, like wood, are delicately high maintenance materials. They require utmost care and regular maintaining.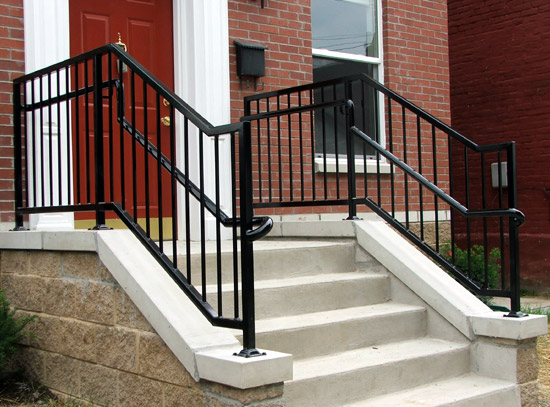 Exterior Wrought Iron Railing Design Ideas
Common Uses of the Wrought Iron Railings
Iron railings have a myriad of uses around the home and in the office. Here are some of the daily applications of these handy railings.
Floor mounted railing – On this category, there are numerous applications and wrought iron railings designs. Some of these designs and applications are mission design railings, blacksmith design railings, laurel design railings, wave railings, basic pipe railings, cross-bar railings, twisted basket design railings, the porch railings and so on. The list is endless!
Wall-mounted railings, Gates and Brackets – The wall mount railings are the ones that are anchored on the wall. Some examples are wrought iron porch railings, grooved wall mount handrails, scalloped wall mount handrails, engraved wall mount handrails, etc.
On brackets and Gates, you can have the custom handrail brackets, moose wrought iron gates, swing wrought iron gates and the square bar railing gates.
The uses and applications and benefits of using wrought iron railings are many and cannot be gainsaid.
Happy porch railings shopping.