We found our outdoor sink was invaluable to have around the house. Considering that generally your main sink is inside the house. And lugging the garden gear into the house for a clean was not going to cut it.
It goes without saying a sink outside the home can be extremely convenient.
Not just for the garden gear, but washing works clothes, washing BBQ dishes, cooking outdoors, cleaning utensils are just a few uses that come to mind.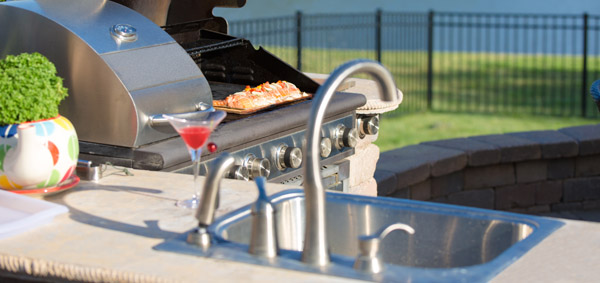 Outdoor Kitchen Sink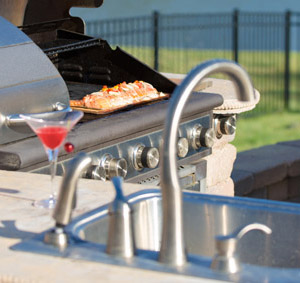 Any outdoor kitchen is incomplete without an purpose built proper outdoor sink.
In fact, the sink is the most important part – it is possible to fashion a makeshift kitchen with just a couple of tables and a stove or grill.
However, without a proper sink, you will constantly be running to and from your indoor kitchen.
Or you will be fidgeting about with a garden hose and tubs. The kids will invariably start spraying people and things with the hose and ….let us just say that you will not have to worry about the meat drying out too much!
A sink is the most used part of a kitchen and hence, many modular outdoor kitchens come with built in sinks. It is up to you to decide whether you want a single bowl or a double bowl sink. Even triple bowled sinks are available!
You can decide between an Under-mount or a Drop-in. And other sink requirement like the brand.
Kohler, Frankie, Blanco, Elkay and Krauss are all reliable, established brands for outdoor sinks. Some products come with a lifetime warranty. So, do a bit of researching to get the best deals.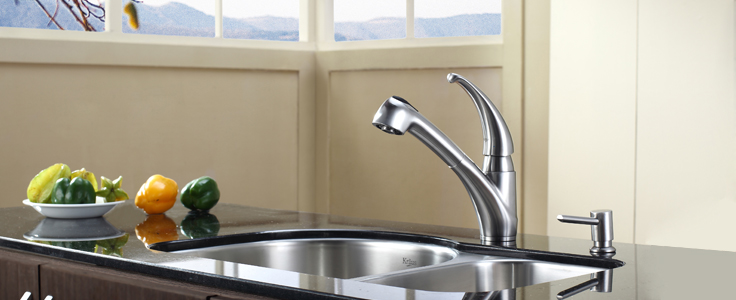 Outdoor Bar Sink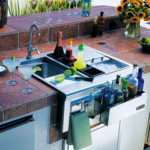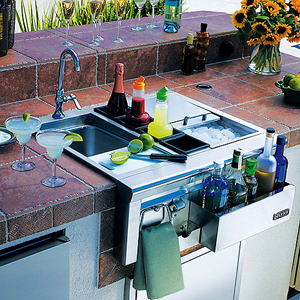 An outdoor bar with a sink is a must-have for all the party animals out there. Nothing beats sipping on exotic, ice-cold cocktails in the great outdoors.
Outdoor bars are a big hit at pool parties, beach side gatherings, barbecues and almost everything other venue where it is legal to drink alcohol.
A stylish outdoor bar has a definite WOW factor!
It is way cooler than mixing cocktails out of jugs placed on a table top. However, unless you have sink, you are going to end up with empty glasses all over the bar counter.
Moreover, no bar is complete without a ritzy, drop-in ice bucket! Just scoop the ice from the bucket into cocktail glasses. Add in a couple of juggling moves to your armory and you will have people swooning all over you!
Permanent outdoor bars are rare – people usually don't store their expensive liquor outdoors. We recommend going with a stainless steel sink – other materials are heavy and thus you will not be able to take your bar with you if you decide to go caravanning or camping.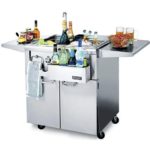 Remember that outdoor sinks require more maintenance than their indoor counterparts as they remain exposed to the elements.
Give your bar and sink a proper cleaning after every party or event; otherwise the stains will be hard to get off. And nobody likes a stained bar and sink.
A hardy cover should do a good job of protecting the bar and sink from rain and dust.
Outdoor Gardening Sink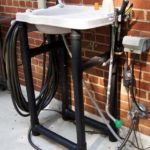 The key word for a gardening sink is durability! This is a heavy duty sink. It won't be used for washing your delicate imported china-ware and champagne glasses; you will wash soiled, dirty gardening equipment in it.
So it has to be of a decent size – big enough to hold at least a major part of your gardening clippers and shovel. Go for a width of at least 20 inches. 60 inches long and 30 inches wide is ideal if you are really into gardening.
Plus it can double up as a swimming pool for the dog (just kidding).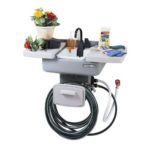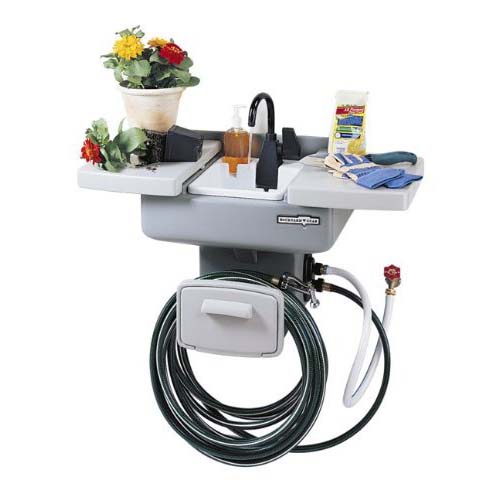 A big outdoor gardening sink is actually the perfect bathing place for your pets. They will not ruin your flooring and wallpaper when they violently shake off the excess water from their coats.
Height is another factor that you must consider – you will probably have to lift moderately heavy equipment into and out of the sink.
So close to the ground is ideal. However, this is hard on your knees and back and so you will require a high faucet. Actually, you can make a huge gardening sink out of stone. This will be a permanent fixture and you will have to scrub it once in a while or it will gather moss.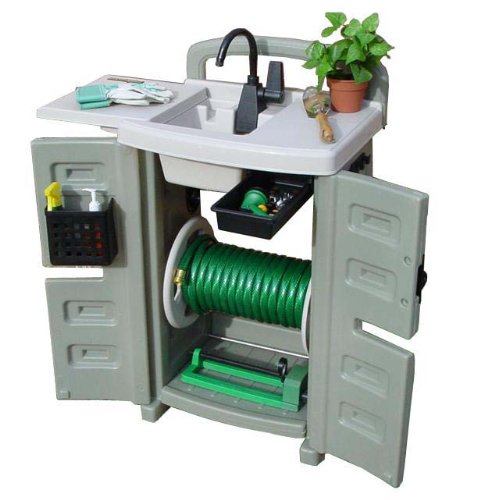 Outdoor Camping Sink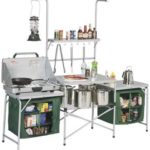 This is indispensable for any enjoyable camping trip. The key word for a camping sink is – LIGHT, as you will have to carry around the sink quite a bit.
Thousands of models of camping kitchens and sinks are available commercially – choose the one that fits your camping style, budget and requirements. If you like to camp out for a couple days a month, a small sized sink should do the job for you.
However, if you are the type that likes to go camping for weeks on end, you should definitely go for heavy duty equipment in general. A camping sink should be able to take abuse; it is not that hard to find a well built camping kitchen/sink. However, it is very difficult to find a camping sink that is light, portable AND well built.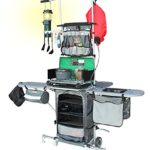 Understand that these sinks usually need to be assembled on the camp site. So they have moving parts and thin legs which are not especially resistant to rough handling.
If you like camping (it is hard not to) and plan on camping often (highly recommended), you should buy a high quality camp kitchen with sink like the Grub hub.
Sure, it will set you back by a few hundred dollars but it will last a lifetime and come up with several years warranty. Note: Always use biodegradable soap while camping!
If you are an avid camper, you should definitely purchase a water pump as it will serve multiple purposes. Such pumps usually run on electricity from your RV or automobile and some have built in rechargeable batteries.
Gas –powered models are also available.
Outdoor Farm Sink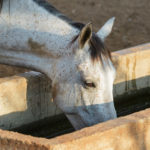 Think garden sink – but much bigger and stronger! This one will double up as a bathing area not just for the dog, but for the horses as well!
Actually, it is not a bad idea to have a farm sink set in stone since it will be used very for washing farming equipment and tools.
Good water supply and drainage is a must – get a heavy duty faucet and permanent plumbing.
If you cannot lay down pipes for some reason, get a powerful gas or electricity powered pump.
Outdoor Laundry Sink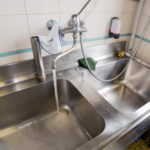 Ideally, a laundry sink must have two bowls. One for washing the dirty laundry and one for rinsing under clear water.
However, such a large ensemble occupies more space and hence, many people go with the single bowl option.
A good laundry sink must be deep so that you can wash a decent amount of clothes in it without splashing too much water around.
A high quality faucet with good pressure is a must.
Having hot water supply makes the task much less arduous – since your clothes will be quite soiled after all that enthusiastic camping and barbecuing.
When it comes to laundry sinks, it is a good idea to give preference to function rather than form.
Save the pretty looking sinks for your outdoor kitchen or bar. Cosmetic appeal of laundry sinks is not as important as their practicality and functionality.
Also, there is absolutely no need to splurge on these sinks. Simply choose one that is the right size and durable.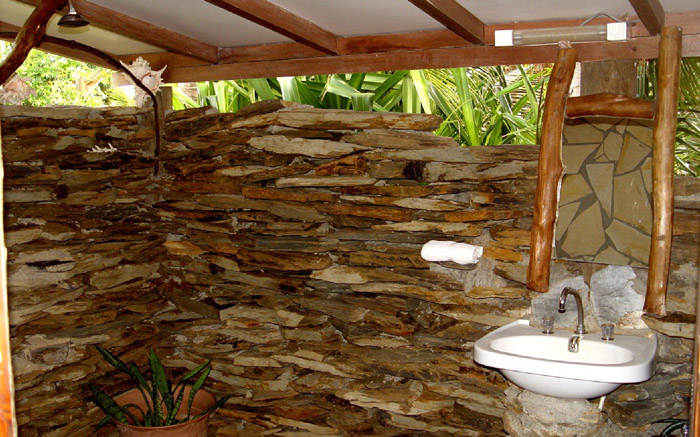 Related Articles