An outdoor kitchen with a sink is an integral part of any camping trip (or backyard), unless you want to go all Neanderthal and cook your food on hot rocks.
Sure, it can be fun to improvise without a kitchen for a day or two – the idea of relying solely on nature for all your resources does indeed have a certain charm to it.
Trick: We use part of our GSI Outdoors Camp Gourmet in the garden when we are not camping. It doubles as a great outdoor garden sink.
However, the novelty wears off really fast and things can get especially miserable after you begin to encounter grime in your burnt food!
A good camp kitchen should be sturdy, portable, easy to maintain, affordable and ideally – it should have a proper sink.
(Otherwise, you will have to do the dishes whilst being squatted on the ground and mind you, this is just the beginning of your problems!)
Want to know which one (we think) is the best?
Best for Camping: Grub Hub – The Ultimate Outdoor Camp Kitchen
Best Duel Purpose (Camp/Garden) GSI Outdoors Camp Gourmet
---
Outdoor Deluxe Portable Camping Kitchen with PVC Sink and Drain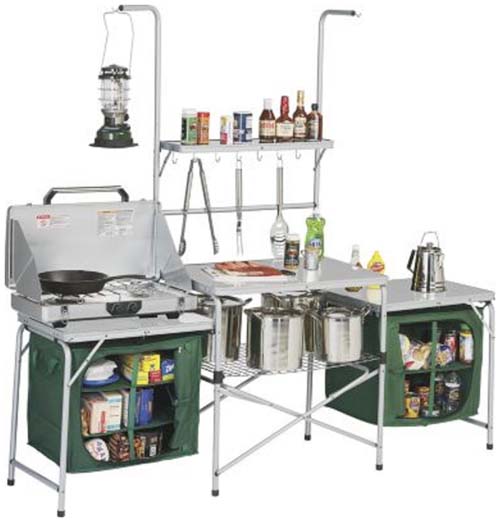 This camp kitchen is equipped with everything that you need to create gourmet meals – anywhere!
This product is built to last and can take a ton of abuse. It will survive raccoon and zombie skunk attacks and a whole lot more.
It has two high hooks that are perfect for hanging a gas lamp. So if you feel hungry in the middle of the night, you can cook with ease under good lighting and all your fingers will be intact after you are done chopping.
Also, you will be spared the need to hold a flashlight in your mouth whilst going about your business!
Pros of the Deluxe Portable
Very good build quality.
This is a nice, high kitchen. This is good for your back and will help you to save on chiropractor bills!
Extremely good utilization of space. The center top lifts off to reveal the sink underneath. Also, the sink is fairly long – almost three fit. This means that it can accommodate a lot of dishes and utensils. This is great for larger groups and families.
It is fairly easy to set up and dismantle. Moreover, it fits nicely in one case.
It has multiple utensil hooks, a spice rack, a large shelf and food pantries.
Easy to clean. Just a good, old fashioned wipe down is enough to make it look like new again.
Free shipping!
Cons of the Deluxe Portable
This camp kitchen is heavy. So you might have to go to the chiropractor after all!
It is a tad expensive. However, you get a lot for your money and seasoned campers say that it is totally worth the investment.
Judging by the storage space, weight and the sheer size of the kitchen; it has been designed for larger groups. You probably don't need so much equipment if you plan to camp alone or in groups of 2 to 3.
---
GSI Outdoors Camp Gourmet Kitchen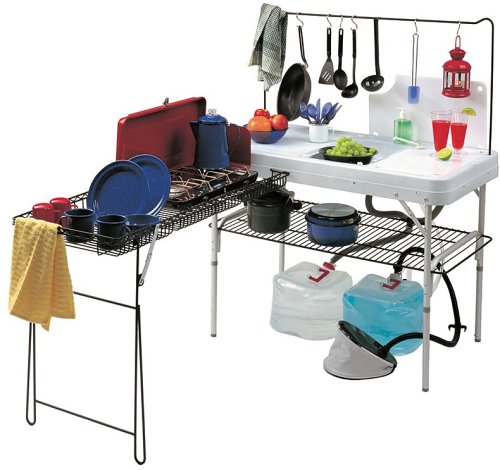 Even though this kitchen is not as elaborate as Model 1, it still has most of the components that are desirable in a camp kitchen – including a double sink with pressurized faucet.
Pros of the GSI
This camp kitchen comes with detachable cutting boards. These actually double up as the sink covers.
Two sinks instead of one – very convenient for doing dishes.
Running water! Pressurized faucet is small but it moves up and down and side to side.
Fairly easy to set up and dismantle.
Compact storage: Fits into one case.
Not too heavy at approximately 31 pounds. Shipping weight is 38 pounds.
Lots of storage spaces.
Height of the kitchen tops and sink can be adjusted.
Free shipping.
Cons of the GSI
Legs have plastic joints. Many customer complaints regarding the joints being weak and breaking.
The faucet leaks if it used too frequently in a short span of time.
Even though the tops are height adjustable, the whole structure lacks stability. Hence, you have to find a very plain surface to stand this kitchen on – which can be a bit of a problem; unless you plan on camping on asphalt!
No separate high hook for gas lamps. You will have to use one of the utensil hooks.
Even thought there are two sinks, they are not deep at all. Can you live with shallow sinks?
On the whole, this camp kitchen is pretty functional but there are a few qualities issues here and there.
---
Coleman Pack-Away Deluxe Camp Kitchen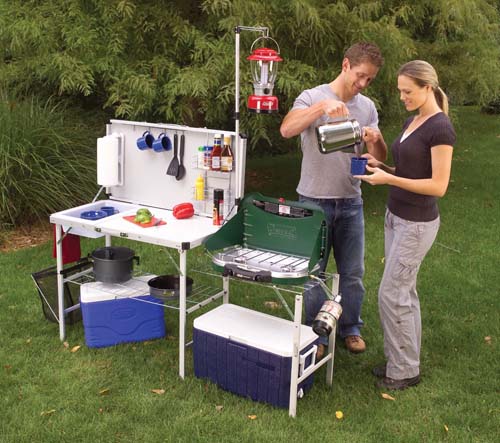 This one is far more basic compared to the first two models. However, it comes with a mouth watering price tag!
Pros of the Colman Deluxe
This model is very easy to put together. Even a ten year old can assemble it!
Very light at just under twenty five pounds. You can literally carry a camp kitchen in just one hand. Perfect for small groups and minimalists! Quite compact as well – does justice to the Pack-Away brand name.
It is dirt cheap!
It is fairly well equipped for its size. It has condiment racks, a removable sink basin, storage shelves and compartments and even a paper towel holder. It comes with a side table that is designed specifically for a Coleman stove.
Decent build quality. It will work absolutely fine as long as you don't bang it around too much.
The product comes with a one year warranty. There have been cases where defective pieces have been replaced by Coleman. Yes, it does happen!
Lantern hook facilitates cooking in the dark.
Cons of the Colman Deluxe
Eligible for shipping only within the United States. You cannot buy this product if you live outside the USA as it does not meet Amazon's eligibility requirements for international shipping.
The side table is designed for specifically for a Coleman stove. But what if you don't have a Coleman stove? What if you stove is bigger and does not fit on the side table? You will either have to get a new camp kitchen or a new stove.
The camping sink is really small and shallow. It is 15 inches long, ten inches wide and only 4 inches deep. Also, there is no mention of a faucet.
The work table is not very high at 34 inches. The side table that is meant for the stove is even lower.
There is a designing error by Coleman that results in the table surface getting cracked due to a screw jutting out. Amazon will replace the product if it is cracked when you receive it. However, the surface might crack again if it comes under pressure.
This kitchen does have a few flaws but it packs quite a punch for its price!
---
Grub Hub – The Ultimate Outdoor Camp Kitchen With Sink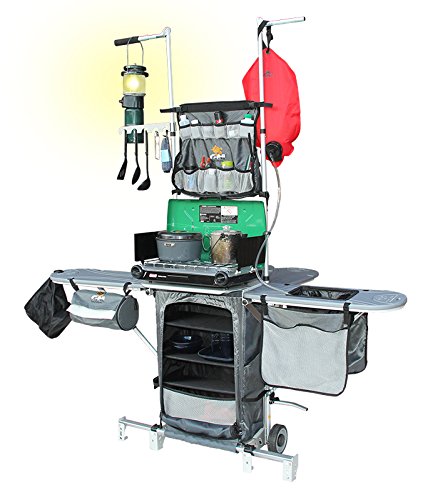 The Grub hub is the ultimate.
If you've been skeptical about these type of portable camp kitchens, or you are one of those people that could never justify spending the money.
If you think they were just hyped-up versions of those mini grills powered by propane. Then think again.
The Grub Hub Camp Kitchen is the ultimate portable kitchen that lets you take all of your camp kitchen gear with you.
It's rugged and lets you set up in literally three minutes. You will be amazed how you could create a kitchen area in so little time.
You won't believe how good it is!
You won't believe it! If you're a die-hard camper, this is a camper's dream. It is the most deluxe kitchen camping gear that you could possibly buy!
If you don't want to limit your camp diet to the processed foods you bring with you and pieces of fruit, this is the product for you.
This is definitely a luxury when it comes to camping that is seriously worth the money.
Totally Organized Camp Kitchen
It's so great for organization, letting you pack practically anything you could imagine into this great product.
It has everything: side tables, back tables, tower, tower organizer, folding sink, litter bag, paper towel holder… just like that, you had a full camp kitchen that is fully functional.
Tables, stove and lantern support. The adjustable velcro shelves, the holding space, Even fold out surfaces so you can put plates down or prep the food, (or gut a fish, if you need to) you had it all!
The set up is well designed and a huge help when it comes to cooking breakfast and just generally storing all the utensils and spices and things like that.
The Features and Benefits in Detail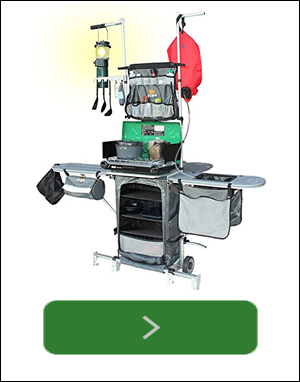 You can read about real customers who say, they love how easy the Grub Hub Camp Kitchen is to use and the portability combined with the fast set up is great.
It's time-consuming enough to get everything set up without having to spend all of your time trying to unpack everything.
This kitchen is worry free, so you can spend the rest of your time enjoying your trip. You can really see the quality in how this thing is built and it's actually a lot nicer than other camp kitchens that they've seen.
If you traveling with a group, planning for multiple people can be very difficult, so the last thing you want is a problem with our portable kitchen! The Grub Hub unit is so rugged and sets up in an incredibly small amount of time.
When you got it out, you'll be impressed with how easy it is to set up — and you'll be even more impressed when you start using it!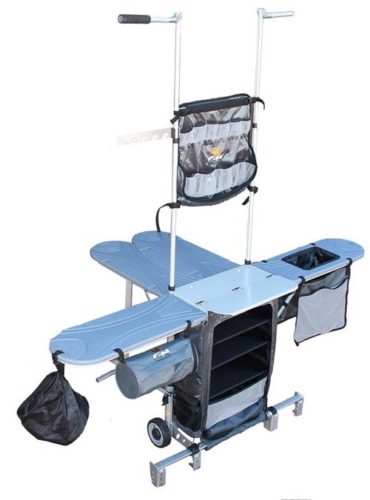 The fold out tables and space for accessories and spices are great, and the cooking facilities are at a normal height. So, no more bending over or stooping down to cook everything!
There is also plenty of work space to prep everything and get all the food ready to cook. You can put plates down and place your cooked food on there no problem!
Having camping tables and having a camp sink that makes eating and cleaning up completely easy. Everything that needs to be included is!
Grilling corn on the cob, cooking up fish, toasting English muffins, it's all do-able… and is better than you would have ever thought!
In addition to that, the unit is sturdy and is clearly well built. We even were able to have space for long grilling tools in the deep pockets on the side.
Packing up was no problem at all and the fact that the Grub Hub was so easy to collapse was the cherry on top of a perfect weekend.
The kids had a great time, too. I personally would never just rely on the fires again! This kitchen is great when you have multiple hungry people to feed and want to avoid a big, complicated set up.
With all the compartments, sink and mesh drying bags for cleaning up, and just everything you would really need for a regular kitchen.
This is such a good unit, storing all of your stuff easily and giving you a kitchen that is nearly on par with a home one. Even doing dishes was easy as pie.
A Total Recap on the Grub Hub Camp Kitchen
Has every thing (and a place for anything)
Gravity feed Outdoor Kitchen Sink
Fast setup times (Spend more time camping)
Durable and sturdy construction (built tough)
Plenty of Workspace (and storage space)
Makes cooking a campers dream job
Packing up the camp kitchen is easy
Long live the portable kitchen camper, thanks Grub Hub for introducing something that has revolutionized the way to cook when camping. No more sweet potatoes in foil on top of the coals any more.
The Grub Hub Camp Kitchen is such a great product. If you don't have a great history of setting things up, then setting up the Camp Kitchen will be a huge relief.
No more digging around for the pepper… be a Grub Hub Camp Kitchen person now!!!
Final Verdict
Model 1 is the best of the lot because of its outstanding built quality and versatility.
Model 3 is the one if budget is a top priority.
Model 2 is for people who cannot live without 2 kitchen sinks and need height adjust-ability.
Save
Save
Save