There many different options available to home owners for lighting up their bathroom area.
The amount of different lighting solutions people can add to brighten up their restroom and to enhance its decor is incredible.
To keep it simple we have listed ten different ways that you, as the home owner, can illuminate your bathroom areas.
1. Soft Mirror Lighting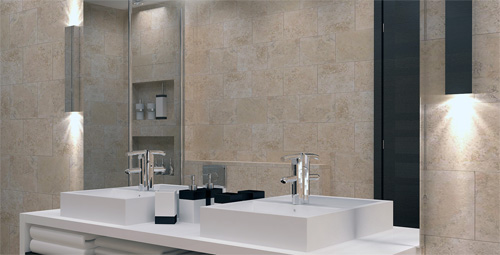 People can add soft lighting around the edge of their mirrors in order to add more illumination to this part of the bathroom.
They could use sconce's or low florescent bulbs to create this effect.
2. Ceiling Fixtures


Ceiling fixtures such as florescent lighting or even a mini chandelier can be added into a bathroom.
Bathroom ceiling fixtures will definitely add more illumination into any bathroom environment.
3. Window Lighting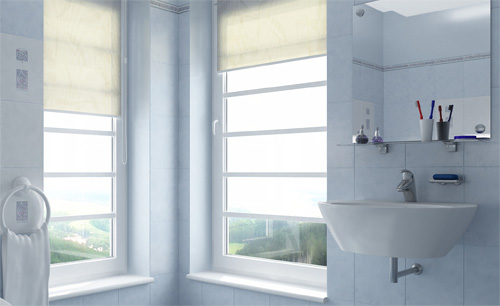 Home owners can install small lighting fixtures around their windows to create a new look in their bathroom.
The best types of lights to use for this project would be LED strips or small florescent tub lighting.
4. Tub and Shower Lights


A home owner can get really creative with adding light to their bathroom by installing lighting fixtures in and around their shower and tub areas.
The most important part of this home decorating project is to make sure that the lighting is water or moisture proof in order to avoid electrocution or shortages.
People can add recessed lights or have lighting installed into their walls with covered moisture or water proof coverings.
Looking for: Bathroom Lighted Vanity Mirror?
5. Toilet Seat Lighting
Lighting up toilet seats might be a bit extreme for many people but some home owners have in fact added this feature to their commodes.
They either installed a flood light that shines down from the ceiling directly over their toilet seat or they add adjustable lighting fixtures into the wall over their toilets.
6. Glowing Lights
People who really want to make their bathrooms into a truly unique place to be can add glowing lights to their environment.
People can relax in a hot bath while watching their water resistant tablets or listening to the radio.
The best type of lights that can be used to create this are LED tube lights.
Looking for: Lighted Bathroom Mirror Decoration
7. Unique Night Lights
People with small children or individuals that like night lights can install a series of lighting inside of their walls and cabinet spaces within their bathroom.
Lighting choices for night lights could include floor lamps or small wattage lighting fixtures arranged around the area at different points.
8. Energy Floor Lighting
People might not realize this but the technology is in place that will allow home owners to add energy floor lighting to living spaces.
What this means is that they can have light up floors installed in their bathrooms. The tiles actually "turn on" when a person performs some type of motion on them.
These floors can be installed by professional technicians to make them safe for home use and they will give a bathroom a unique look and feel.
9. Table Lamps
Adding a small table lamp to a bathroom might not seem like a good idea but they can actually work in some homes.
Many modern bathrooms are very sophisticated and some even resemble living or sitting room areas. Placing table lamps into these types of bathrooms could make them more appealing.
Home owners will probably want to use some type of water proof or moisture resistant table lamp to avoid the risk of electrocution.
10. Bathroom Door Lighting
Home owners can add light to their bathroom door by using strip or rope lights.
This can add a unique touch to an otherwise bland bathroom environment.
They can also use progressive lighting tubes for this type of job.