Gardening is so much fun, but cleaning up after, not so much.
That's why we did a huge amount of work researching into an appropriate outdoor garden sink, to make this part of the job so much more enjoyable.
What's life without joy eh!
Now Washing our hands after gardening takes less effort and is extremely convenient with the sink now so close to the garden.
They also help you avoid other kinds of mess around the yard. The sink with an attached hose makes cleaning your tools very handy as well.
OK, enough about our outdoor sink, let's help find the right garden sink for you.
---
Why Choose an Outdoor Garden Sink
Cleaning is a necessary evil – much like going to the dentist! Nobody likes it, but alas, it has to be done at some point or another.
An outdoor sink in your garden reduces your cleaning time drastically!
It also prevents harmful bacteria from getting into the house, thus creating a better environment for you and your loved ones.
An outdoor garden sink is a must have for every family. Here are several reasons why!
Cleaning your pets muddy feet from running about the garden
Happens all the time! If your furry friend gets into the house with muddy feet, your floor and furniture will get a new paw-patterned look! While your kids might find the paw-prints cute, your other half and guests will probably not share the same opinion.
Even if you do manage to pick up your pet and carry him/her to the bathroom, you will have to scrub the bathroom afterwards.
However, all these problems are easily solved if you have an outdoor garden sink. Just wash your pet's paws with a hose and dry them off with tissues or a towel.
Eating food outdoors make cleaning up better with an outdoor sink
However, if you do not have an outdoor sink, you will have to constantly run in and out of the house – to wash hands, to wash plates, to get water, to dump dirty plates, to prep veggies and meat etc.
All this will distract you from the actual barbecuing and you will inevitably end up with burnt, dry scraps of meat.
Your evening with friends and family will be ruined. Even if you do manage to cook the meat properly – you just cannot ignore the convenience of an outdoor sink!
Gardening sink for flowering plants to loosened the soil
Surely, the yard looks pretty neat. However, it would be a shame to wash the soiled gardening equipment inside the house. And you probably got your feet and hands dirty too.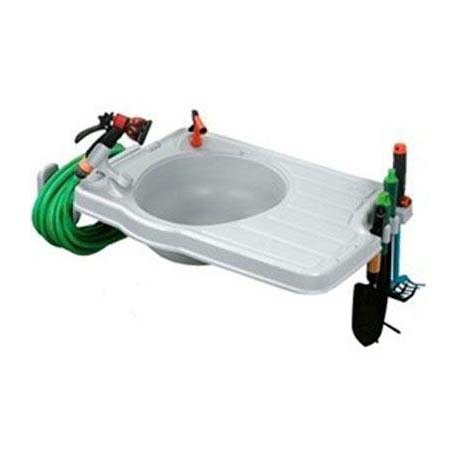 The Versatile Riverstone Outdoor Sink on Amazon
What is the use of a nice looking garden if your house is going to get muddy at the next instant? Looks like it is time to install an outdoor garden sink. Sure, you can connect a hose to an indoor faucet.
However, you will create a muddy puddle of water if there is no proper drainage.
Also, somebody (including yourself), is bound to trip on the hose if it runs through the length of the house and into the garden!
An outdoor sink is great for washing hands after working in the yard
Most sinks have racks or cases for holding soaps.
This is convenient and saves time – People can wash hands at the sink and sit down to eat the steak/burger that is being grilled outside!
No need to enter the house just to wash up!
Cooking fish? Seafood tastes amazing and cleaning up is easy too!
The only downside is that if you clean fish indoors, your house will smell like a fish market for at least a couple of days.
Your table top will be covered in slimy scales which are hard to remove.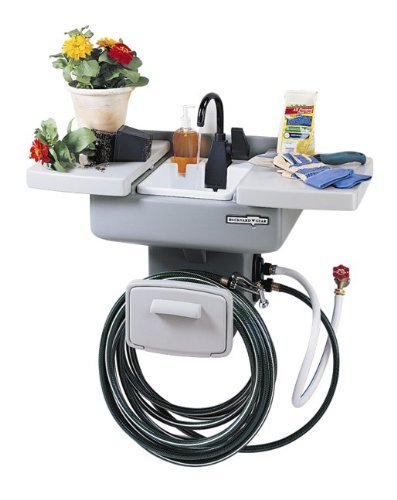 Search more outdoor sinks on Amazon here
So how about cleaning fish and other seafood outside? See, an outdoor sink makes life way easier!
Without an outdoor sink you could bring soiled, filthy items indoors
This increases the risk of contamination. Small children are especially susceptible to infections as they crawl around on the floor and tend to put everything in their mouths.
Connect a hose to an indoor faucet instead of installing a sink
However, unlike a sink, a hose has no drainage facility.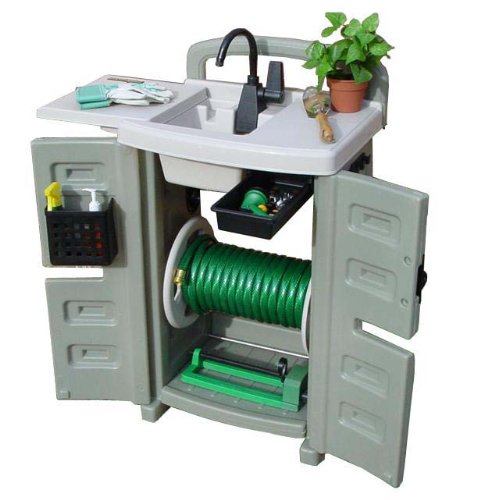 Check Out: Suncast Portable Outdoor Garden Cart
Thus, you will create large muddy puddles of water in the garden – these will spoil your plants and become a breeding ground for mosquitoes and other insects!
---
Top Garden Sinks For Outdoor Activities – Best Rated And Reviewed
You do not need to make any expensive modifications to your home in order to install an outdoor sink.
Basic sink models cost as little as 40 to 50 bucks and can be assembled and mounted within minutes.
Check out these best-selling outdoor sinks and take your pick of the lot.
---
D.F. Omer WS100 Backyard Gear Water Station Plus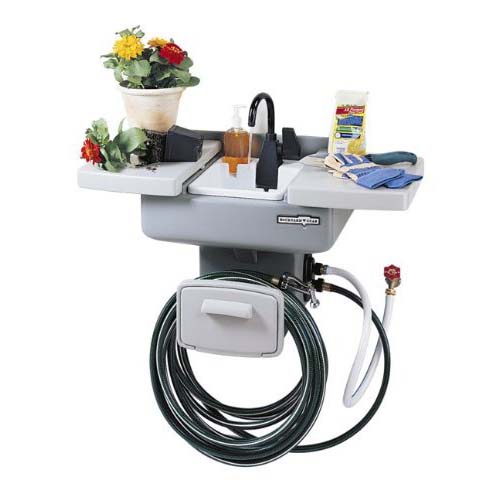 Comes with a large work space that opens up to reveal a fold-away faucet and sink.
The WS100 can be mounted onto an exterior wall. The extra work space comes in very handy for washing equipment, fruits, herbs, vegetables etc.
If you are a minimalist, this sink can double up as a prepping station for outdoor grilling.
The faucet is compatible with standard garden hoses. You even get a hose free of cost! Wondering where to put the hose?
Don't worry – this model has a built-in hose storage hanger. The sink ships free of cost and comes with a warranty.
It is a steal for a little over a hundred dollars!
2) RSI S1 Outdoor Sink: This is a no frills, basic, durable outdoor sink. It does the job without any fuss. It also takes up very little space (16.6 x 17.2 x 16.
3) and is super easy to install. The plastics are of a high quality and you get a lot of sink for just $39.99; although you do have to pay for the nozzle and faucet separately.
---
Vertex International GE4300 Garden Essentials Outdoor Sink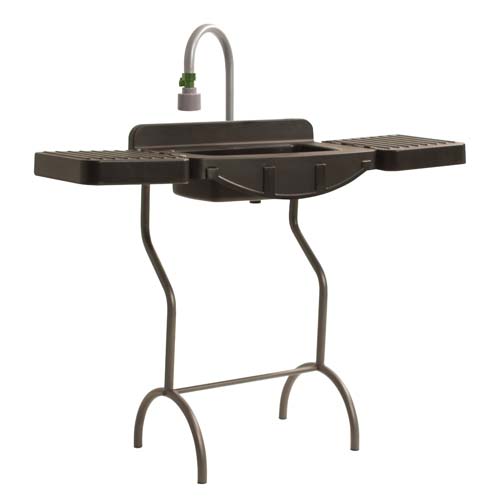 Try Out: Kotulas Fish Cleaning Camp Table with Flexible Faucet
This model has a simplistic yet highly functional design. The sink has a 7 way adjustable wand and also a Y connection to facilitate hooking up. Weighing in at just a little less than 18 pounds, the GE 4300 is mounted on a stand.
Hence, there is no need to mount this sink onto a wall – you can move it easily from one part of the garden to another.
The model is compatible with any standard garden hose and has 2 shelves on either side of the sink.
Each shelf has a load carrying capacity of 20 pounds. The GE4300 is a great buy for a hundred bucks (free shipping!).
---
Riverstone Industries (RSI) Outdoor Garden Sink Large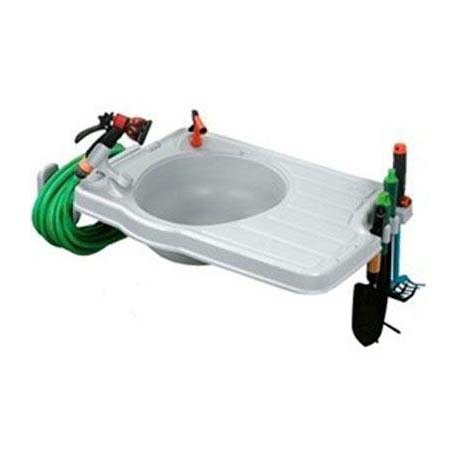 The Versatile Riverstone Outdoor Sink on Amazon
This sink is affordable, durable and large. The diameter of the actual sink is about fifteen inches.
This model is perfect for gardening and also other day to day cleaning tasks. Going by other customer reviews, this product can take a lot of abuse. The sink has a storage hanger for hoses and also a side shelf for soaps, utensils etc.
The best part about this model is the low price tag! The sink is designed to be mounted onto a wall but some customers have placed it on a customized PVC stand.
If you are looking for a large sink at a low cost – then this is the one to pick!
As you just read, no home or garden is complete without an outdoor sink.
So what are you waiting for? You probably have a lot of things that you absolutely do not need.
Here is one that you do. Pick any one of the best-sellers above. You and your family deserve it!
Save
Save