Every home office starts with a desk and good chair. This article is about the latter. The home office chair.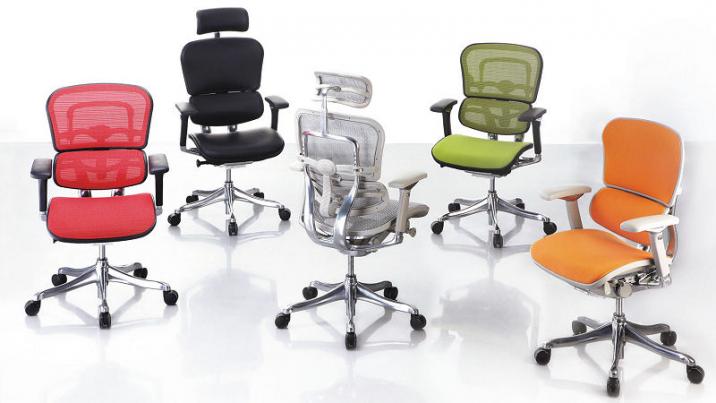 Home Office Key Features
Looking at the role of chairs in the home or office, you must understand that there are specific features that each must have to serve its purpose. Below are a host of important features that will make a good chair.
Comfort
Everyone wants to feel comfortable when seated. Because many people sit when doing certain jobs or when simply relaxing, the comfort of the occupant of the seat is important.
An uncomfortable chair will result in additional problems for the user. Many people who use uncomfortable chairs develop serious back aches among other problems.
Besides insisting on a comfortable chair, you must make sure the chair is strong enough to withstand the weight it is supposed to hold. The carpentry work on the chair must be perfect.
Durability
The joints should be made to make sure the chair will not crumble when in use. To ensure the durability of the chair well enough, you can also choose materials that are durable such as metals.
Beauty
As much as you want to have a strong and comfortable chair, you must insist on other features of a good chair such as beauty. The chair should not be the ugliest thing in your home or office.
Designers of chairs always take many factors into consideration. The interior decorations of the room should conform to the colors of the chairs within the room. The final polishing of the chairs must be good to make them clean and beautiful.
Portability and Mobility
The best features of a good chair include portability. This is very important especially when dealing with office chairs.
The office guest chairs should also be easy to move as well as comfortable. In the office, you might need to move around the office desk. Such chairs should also have wheels to enhance mobility within the area.
Cushioning
Cushioning is very important as it gives a soft pad that will cushion the user of the chair against the hard wood or any other materials that it is made from. When you have a good chair, you can spend longer hours seating as opposed to a bad one.
Ergonomic Office Chairs Make a Good First Impression
Whether it is for your interviewees, clients, or visitors, your reception area must have ergonomic office chairs. This type of furniture does play a vital role because it gives your visitors a lasting impression of you.
It is important to consider placing well-designed, user-friendly reception chairs in the room so that your customers or guests feel at ease while they wait.
Ergonomic office chairs are not only helpful in establishing good first impressions, but are comfortable and add a complimentary look.
reception chairs for guests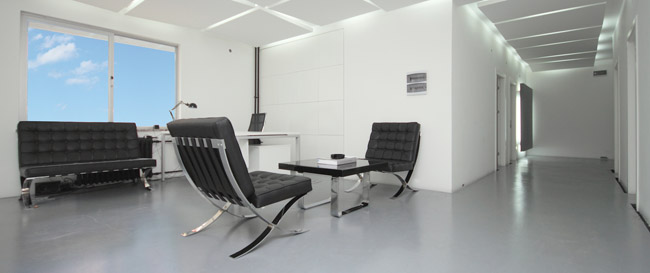 1. Office Chairs For Your Comfort
Huge executive leather chairs are just an example of ergonomic office chairs, which are specifically designed for durability, style, and comfort. This particular furniture is tailored for people of any height or size. Apart from their sophisticated look, they are stable and safe.
They are also made from the finest leather on the market. When these chairs are present in your waiting room or conference area, you can be assured that your guests or clients will stay comfortable during the entire time of waiting.
2. Encourages More Clients
Comfortable guest chairs, when positioned to give a great view of a picture or window, can encourage customers to be physically relaxed and emotionally at ease. In this connection, it will encourage them to visit your office more often.
If they feel relaxed before even talking with you, it will give them an impression that you care for their welfare. On the other hand, uncomfortable chairs can stir up feelings of apprehension or anxiety.
3. Ergonomic Chairs Add Complementary Look
These chairs are not only vital in keeping your guests or clients comfortable and safe, they are also an essential part of an office's scenery. When all the elements of your reception area or conference room complement each other, the room looks more sophisticated and modern.
It is up to the company or business whether they like to opt for an airy or a fresh look. But generally, ergonomic reception chairs are an ideal piece of furniture for adding a touch of elegance and modernity.
Practical Considerations When Choosing Ergonomic Chairs For Your Reception Area
Yes, ergonomic reception chairs can establish good first impressions. However, it must be noted that there must be an appropriate choice of furniture based on the type of company or business you have. It is not always wise to rely on design catalogs for the most suitable chairs for your reception area.
For instance, a graphic design company may opt for mesh and metal chairs because these are visually appealing. This type of design is suited for their service or product. On the other hand, a law office may choose leather guest chairs because these are formal and sophisticated at the same time.
In some offices, they prefer sturdy but light and space-saving furniture. In other words, they prefer to opt for versatile reception chairs. For the sake of practicality, you can also choose to have light chairs in your conference room or reception area because they only take up minimal space.
Good quality chairs can tell your customers that you are serious in taking a great deal of pride in the look of your office. As always, clients and visitors want to be treated with lush surroundings and comfort.
Various Types Of Ergonomic Office Chairs For Better Posture
Ergonomics or human factors essentially mean the same thing.
It's a study of designing equipment and devices that fit the human body and its cognitive abilities.
One example of which is in the design of ergonomic office chairs to conform to the shape of the human users.
The way an office worker sits in the same position for an extended period of time, can have a dramatic effect on your health. Ergonomic chair design can help relieve this stress on the body.
Choosing the Best Ergonomic Office Chairs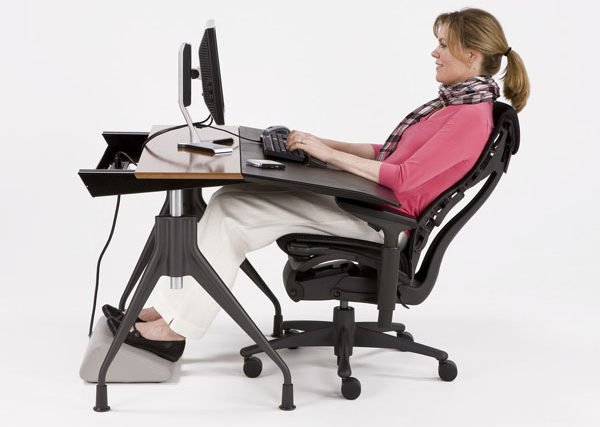 Most office employees spent their work time sitting in desk chairs. Studies have shown this is dangerous to their health. The most obvious danger is the more they sit, the lesser the calories they burn.
Extra calories get stored as fat. Having a lot of excess fat predisposes the body to problems including heart disease and diabetes. Sitting for too long produces a rapid drop in a blood enzyme that is called 'lipase'. Lipase' responsibility is to break down fat. Also, electrical activity in the leg muscle decrease quickly.
The longer people sit, the more their metabolic rate slows down significantly – about a calorie a minute. One of the most perilous outcomes of extended periods of sitting is the body's sensitivity to insulin, which becomes much less. This has led to sky-rocketing Type 2 diabetes.
The regular ergonomic office chair is one size fits all. Most types even the cheap ergonomic office chairs are designed to suit a range of people. It lets you adjust the seat height, back rest (vertically, frontward and backward) and seat depth.
There are many types of ergonomic chair available. Listed below are some of the things ergonomic chairs should have:
Seat Height – Office chairs should be adjustable easily.
Seat Width – The seat should provide enough width to support users comfortably.
Lumbar Support – Support for the lower back is very important. The lumbar spine curves inward and sitting for a long time without proper support for this curve lead to slouching.
Backrest – Backrests should provide proper support to promote the natural spine's curve.
Seat Material – Materials used for office chair seats should have sufficient padding to support users for long periods.
Different Ergonomic Chairs
Guest Chairs
Office guest chairs are affordable types of seating for reception areas. They are engineered for comfort and durability.
Mesh Chairs
Ergonomic mesh office chairs are designed to provide exceptional back support and to prevent body heat and moisture build-up.
Kneeling Chairs
These types are backless chairs that have pads attached at an angle where user's shins rest. Seat of kneeling chairs are forward-tilted which helps the spine to remain erect and aligned properly.
Saddle Stools
People have been riding horses for hundreds of years – making saddles the most tested and refined work chair ever. These do not have backs, only seats shaped like saddles that are sometimes divided into halves. These stools are designed to >maintain your erect posture while sitting at the desk.
Task Chairs
These are the chairs typically seen around the office. Task chairs' backs that are curved and hug the contours of users' spine giving their lower back its needed support.
The importance of using the best ergonomic office chairs cannot be emphasized enough. People should invest a little more for these ergonomic office chairs than sacrifice their overall health especially when their work entails a lot of sitting.
---
Home Office Guest Chair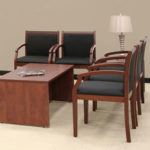 Home Office guest chairs are essential furnishings that allow you to accommodate visitors and all other types of individuals coming to your office.
Basically, any type of seat could serve as a guest chair, but it is always better to search for the ones, which are actually designed for this purpose.
When planning to furnish your office with guest chairs, there are important considerations that should serve as guide in choosing.
Nature or Type of the Office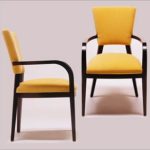 The main consideration when searching for the most ideal kind of guest chair is the nature of your office. Corporate offices for example require the most elegant and formal leather office guest chairs.
The chairs should match or be close enough to the design of the existing executive table and chair.
If it's an executive office, the most ideal ones are the highly polished wooden chairs that are well cushioned and smartly tucked-in with an elegant fabric or leather.
On the other hand, offices that expect the regular inflow of people just like dental clinics or public service offices could alternately install a beam seating which could accommodate more than two individuals at a time.
Choice of Style or Design
Related to the consideration above, the choice of style or design will heavily depend on the nature or existing look of the office.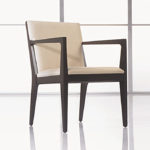 There are several styles of guest chairs to choose from ranging from the classic or traditional designs up to the contemporary and modern office guest chairs.
The classic ones are usually made out of hardwood and are finished with either a black or tan color. And the seat covers are manually tailored out of expensive leather or the shiny vinyl.
The modern seats on the other hand are brighter in color and simpler in design compared to the traditional ones.
If the traditional guest chairs offer elegance and intricacy, the modern seats focus more on functionality.
These seats can either be made out of wood or metal, feature high-density foam as cushion, and are covered with special fabric or synthetic leather.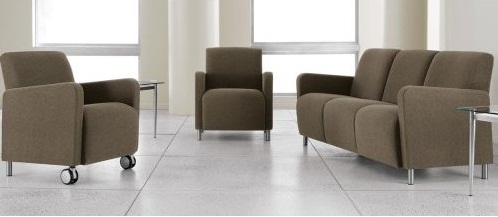 Leather office guest chairs
Need for Durability and Comfort
Similar with all other furniture you have at home or the office, the office guest chairs should also be durable. A durable seat means it could serve its purpose and be functional even after a couple of months or even years of continued usage.
If you are planning to use the classical or traditional seats, durability would mean that you could eventually resell them later on as antique or used office guest chairs.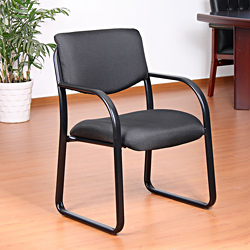 Comfort is another important element when choosing.
Since these chairs shall also be used as a waiting area for your guests, it should ensure utmost comfort especially for your most important visitors.
Among the essentials, which would ensure comfort, include the ergonomic backrest, a well padded or cushioned seat, and the armrests.
To provide an unparalleled comfort level, you could uniquely use single-sized sofa seats as guest chairs.
Need for Casters
Casters or wheels like those comfy ergonomic office chairs are not really that essential.
Most office guest chairs are generally designed to be stationary. You only need casters if the guest chairs are to be used frequently by several people. One example of which are those that shall be placed inside the conference room.
They are also ideal for office employees who don't have their own office rooms yet and those having a limited office space. The casters make the placement or storing of the guest chairs easier.
Guest chairs are essential office furniture. Make your meetings comfortable with conference tables. Thus, the most stylish and elegant yet functional pieces should be preferred to accommodate the regular and special office visitors.
Save